10 Minute Tomato Soup (Picky Palate Cookbook)
My grilled cheese + tomato soup obsession began when I was little.  Just like 95.6% of the other Mom's in America did, my mother served up Cream of Tomato soup from the red & white can once in a while (you can probably relate if you were a 70's kid).  I loved the stuff by itself, but when served with a grilled cheese sandwich it became extra-special.  My favorite thing was tearing off bits of the sandwich and dropping it into the bowl to be scooped up with spoonfuls of soup.  I totally admit to still doing that!  Nowadays for lunch I make a grilled cheese with added fresh tomato (I won't eat the canned stuff anymore), but it's even better when I can whip up some homemade Tomato Soup to go along with that grilled cheese.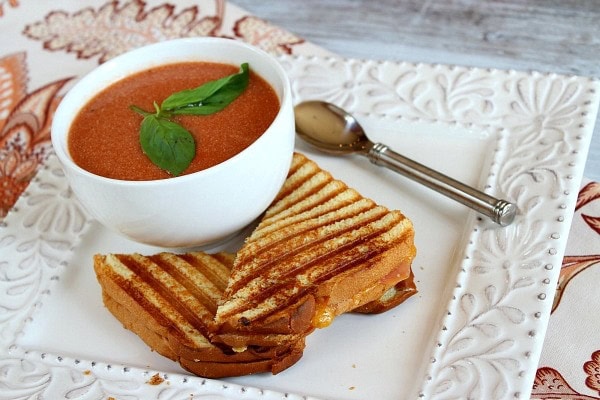 This super quick (10 minute!!) Tomato Soup comes from newly released The Picky Palate Cookbook.  It's creamy and delicious with some basil and garlic mixed in too.  It's also kid-friendly… get the kids to help you and show them how easy it is to make Tomato Soup!  And don't you dare forget the grilled cheese!
Do you have a family?
Do you have kids who tend to be picky eaters?
Do you need some new ideas for simple, family-friendly meals?
Then this cookbook is for you!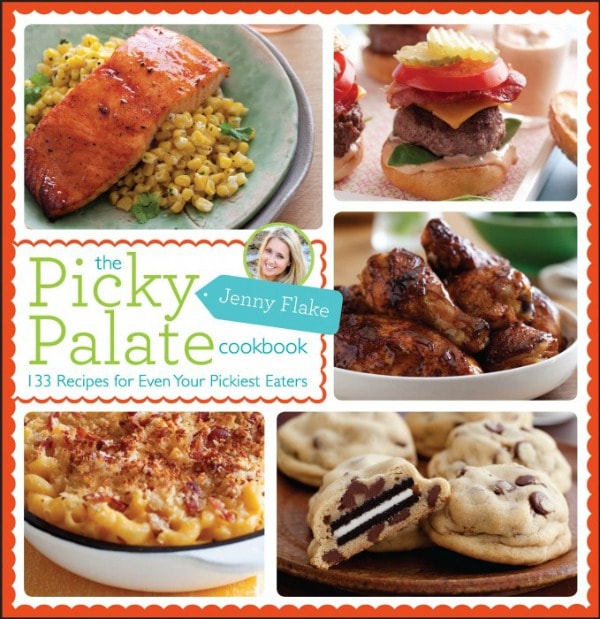 Jenny Flake's Picky Palate blog has been a daily read for me since she began blogging five years ago.  Her simple style and creative way with recipes works for me and my family.  I always knew that her cookbook would be great too.  I love that Jenny doesn't use crazy ingredients that are tough to find at the grocery store, and that she keeps preparation simple.  The book includes recipes for breakfast, main dishes, side dishes, appetizers and desserts.  All of her recipes were created with picky palates in mind.  I'm excited to try the Nutella- Banana- Stuffed French Toast, Maple-Bacon Muffins with Sweet Butter, Skillet-Baked Mac and Cheese, Spanish Rice, Homemade Potato Chips, Smoked Cheddar BBQ Chicken Mac, Garlic- Toasted Spaghetti Pot Pie, Shrimp Linguini in Tomato Cream Sauce, Black Bean Guacamole Burgers, Peanut Butter and Jelly Skillet Monkey Bread, and No-Bake Chewy Cookies and Cream Bars.  My 11 year old son has tagged about 80% of the recipes in the book for us to make together.  It's definitely a must-have cookbook for families.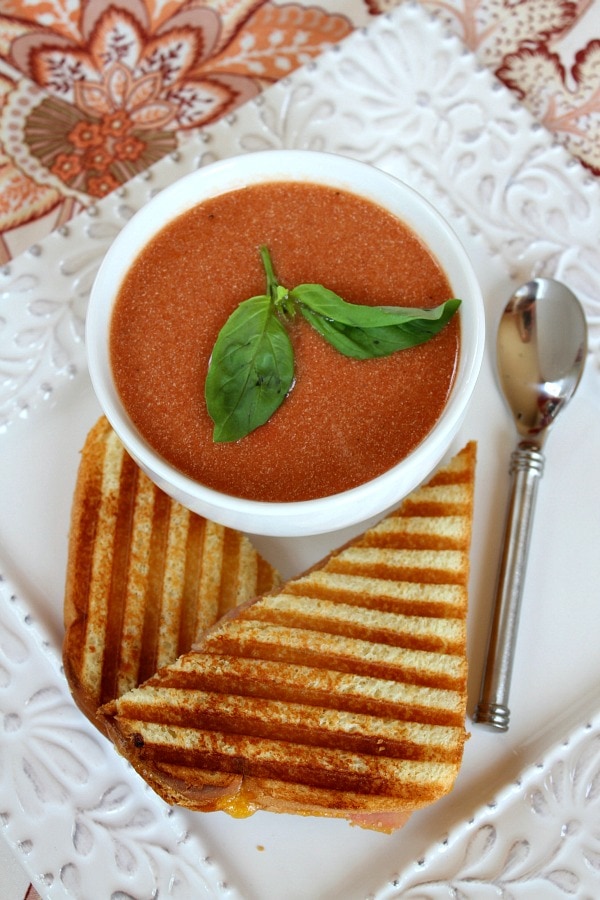 Here's How To Enter to win a copy of The Picky Palate Cookbook:  This giveaway is now closed- randomly selected commenter Daneen is the lucky winner.  Thanks to all for entering!
1.  Leave a comment here and tell me….What kind of meal do you make that is a good one for picky eaters?
For extra entries:
2.  Join me on Facebook, Twitter, Pinterest and/or subscribe to the RecipeGirl blog via email (in my right sidebar).
(Leave 4 separate comments for these)
3.  Giveaway ends Friday, November 2nd 8AM PST.  US Residents only.  Winners will be chosen via Random.org and be notified by email.  Winners will have 48 hours to respond to my email.
Yield: 4 servings
Prep Time: 10 min
Cook Time: 5 min
10 Minute Tomato Soup
Quick recipe for a creamy tomato soup!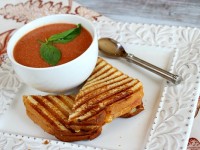 Ingredients:
Two 15-ounce cans diced tomatoes
1/4 cup finely chopped sweet onion
2 medium cloves garlic, minced
12 medium fresh basil leaves
1 teaspoon kosher salt
1/2 teaspoon freshly ground black pepper
1/2 cup heavy cream
Directions:
1. Add the tomatoes, onion, garlic, basil, salt and pepper to a food processor or blender. Pulse or blend until smooth.
2. Pour the soup into a medium saucepan set over medium-low heat. Add the heavy cream, stir to combine, and cook for 5 minutes, stirring, until hot. Serve warm.
Disclosure:  The book for this giveaway is being provided by Wiley & Sons.  I was given a copy of The Picky Palate Cookbook for review, and all opinions shared are my own.