Strawberry Cheesecake Cake
It's not really the peak of strawberry season right now, but I'm still finding the most amazing sweet strawberries in my market. I've been obsessed with eating them sliced up with Honey- Vanilla Bean Greek Yogurt as a pre-workout breakfast. And they're delicious too in my latest cheesecake cake creation: Strawberry Cheesecake Cake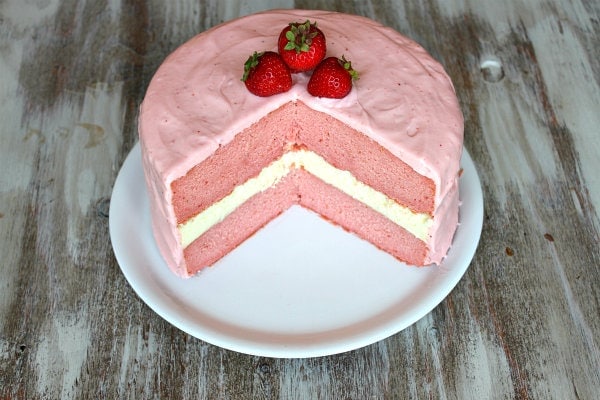 So you get the idea, right? Two layers of cake with a layer of cheesecake in the middle. Covered with frosting too. I love these cakes best since you get both cheesecake and cake in the same dessert. This version sports a strawberry cake, classic cheesecake and strawberry buttercream frosting.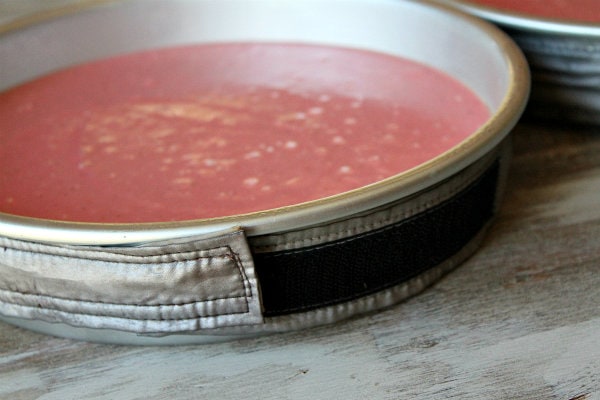 One of the keys to making this sort of cake successful is to make nice, even layers. Even layers can be accomplished by using insulated bake even strips. Invest in them and your cake-baking life will be changed forever. Trust me, they work!

I wasn't super duper happy with the cake recipe I tried.  It made too much batter and the resulting cake was much too dense.  It was yummy, just too dense.  So I'm going to go ahead and suggest you make THIS ONE from the blog- Confections of a Foodie Bride.  Just print out her recipe and use those two cake layers to make this cheesecake cake.  If you're one of those "I only use box mixes!" kind of people, you can certainly use a strawberry cake box mix for this recipe too.  It's flexible… you just need two 9-inch round strawberry cake layers.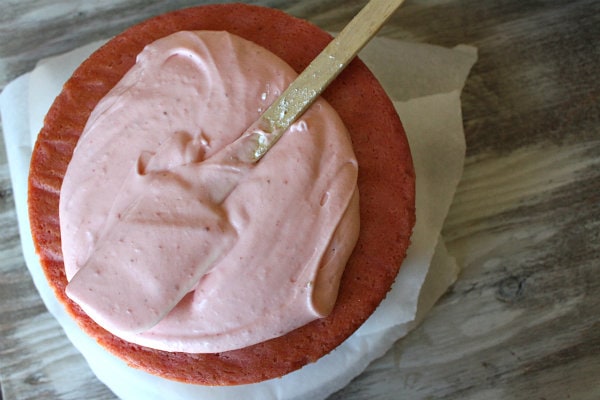 Strawberry frosting just gets plopped on top (no need to frost in between layers as you usually do for a layer cake since that cheesecake layer will be enough to sandwich the two layers together).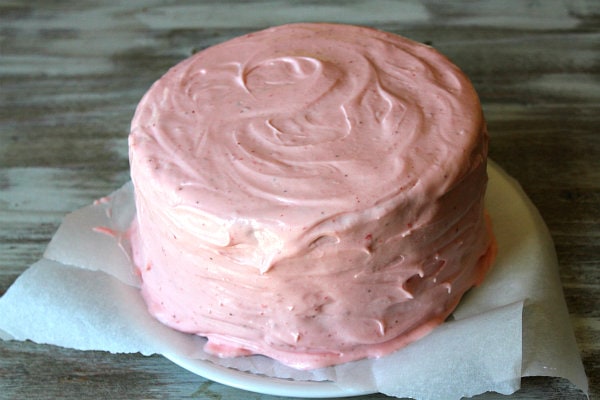 Spread the frosting over the sides and cover the whole cake with it.  See those strips of waxed paper that are tucked under the sides of the cake?  That's my secret for making sure your platter stays clear of major frosting smudges.  After you frost the cake, just slip out those pieces of waxed paper and toss them.  Then you'll have a pretty cake on a clean platter!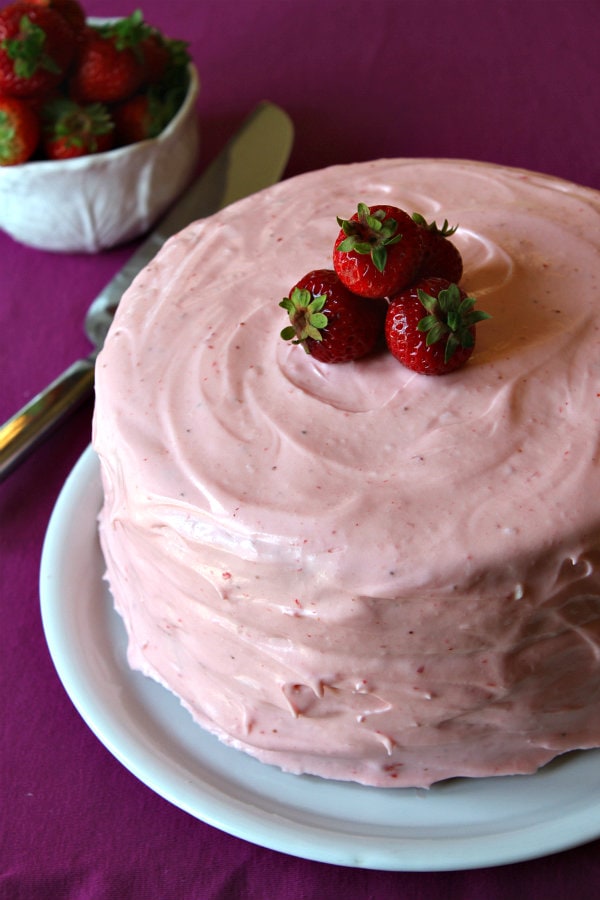 Decorate with a few fresh strawberries, and you're good to go.  Some white chocolate shavings would be good on here too.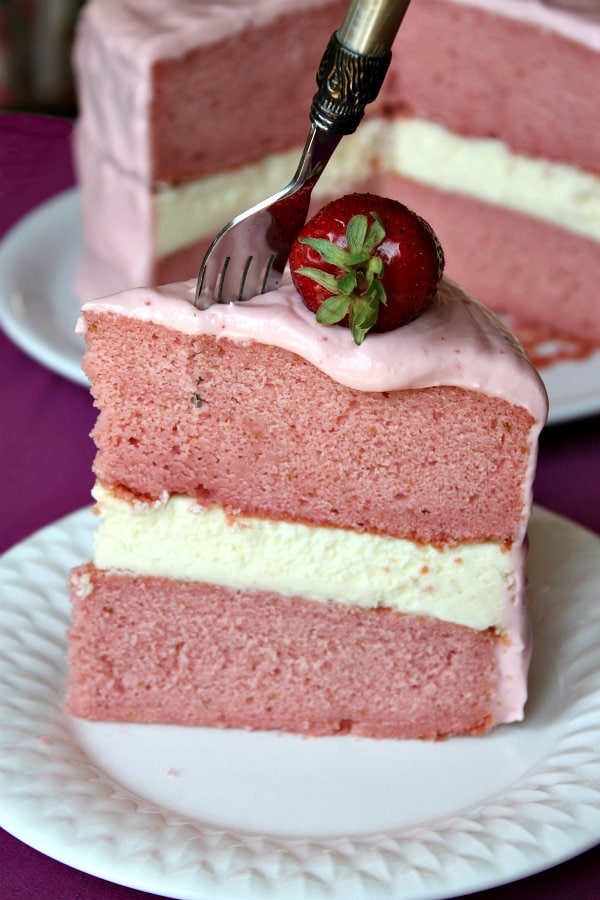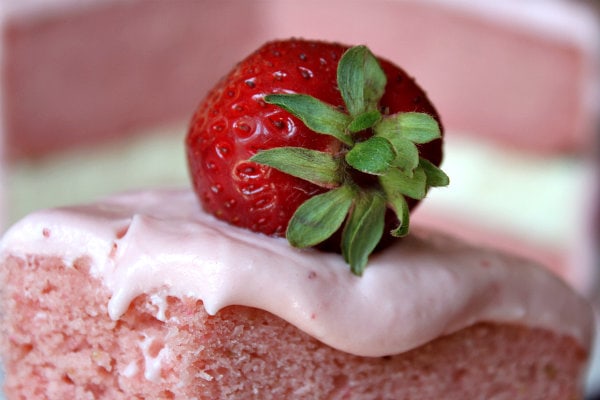 Cut into slices and serve.  Or refrigerate until you're ready to do so.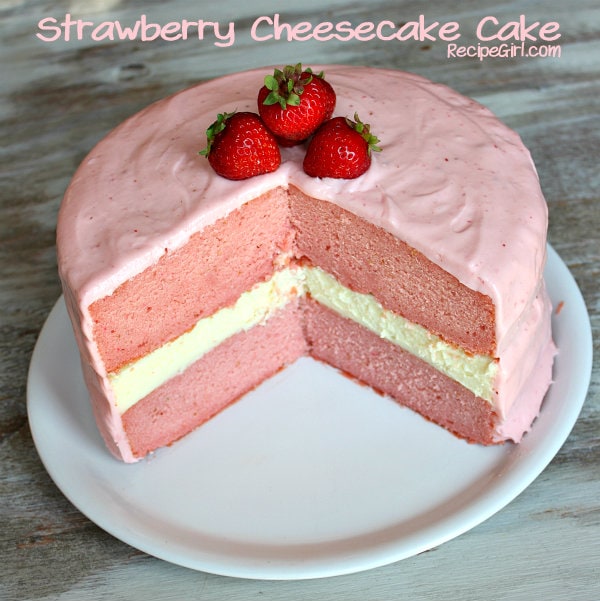 I'm having a hard time deciding if this is my new favorite cheesecake cake, or if one of those others I've made is better.  This one is sure pretty for a girl's birthday (or baby shower), and it's a fun summery sort of cake when the need for something summery strikes.
Oh, and don't let the long instructions scare you.  It's very simple to pull off… just follow each step as directed and you can create this beautiful cake too.  ENJOY!
Yield: 12 to 15 servings
Prep Time: 1 hr + cooling and chill times
Cook Time: 1 hour 15 min
Strawberry Cheesecake Cake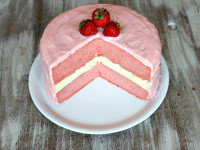 Ingredients:
CHEESECAKE:
Two 8-ounce packages cream cheese, at room temperature
2/3 cup granulated white sugar
pinch of salt
2 large eggs
1/3 cup sour cream
1/3 cup heavy whipping cream
1 teaspoon vanilla extract
STRAWBERRY CAKE:
I used this recipe- good, but rather dense & you'll probably have a bit of extra batter so make a few cupcakes: http://smittenkitchen.com/blog/2008/10/pink-lady-cake/
I recommend you try this one instead- it looks much lighter: http://www.jasonandshawnda.com/foodiebride/archives/1088/
See *Tips below if you prefer to use a boxed mix.
I'd add a few drops of red food coloring to enhance the "PINK" appearance
FROSTING:
12 ounces (1 1/2 packages) cream cheese, softened
1/2 cup (1 stick) unsalted butter, softened
2 teaspoons vanilla extract
1/4 cup strawberry puree (frozen strawberries, thawed and blended in blender)
1 tablespoon heavy whipping cream
2 to 3 cups powdered sugar
DECOR:
Fresh strawberries and/or slivers of white chocolate, as desired
Directions:
1. Prepare the cheesecake layer: Preheat the oven to 325dgF. Place a large roasting pan on the lower third rack of the oven. Place a kettle of water on the stove to boil. Spray a 9-inch springform pan with nonstick spray. Wrap a double layer of heavy duty foil around the bottom and up the sides of the pan (you want to seal it so the water from the water bath doesn't seep into the pan).
In a large bowl, use an electric mixer to blend the cream cheese until it is smooth and creamy, 1 to 2 minutes. Mix in the sugar and salt and blend for 2 minutes, scraping down the sides of the bowl to make sure all is mixed in. Add the eggs, one at a time, blending after each addition. Finally, mix in the sour cream, whipping cream and vanilla (and food color, if using). Mix until smooth. Pour the batter into the prepared pan. Set the pan into the roasting pan in the pre-heated oven. Carefully pour the hot water from your kettle into the roasting pan. Pour enough water so that there is about an inch of water coming up the foil along the sides of the cheesecake pan.
Bake the cheesecake for 45 minutes. It should be set to the touch and not jiggly. Remove the cheesecake from the roasting pan and let it cool on a wire rack for at least an hour. When it has cooled, place the pan into the freezer and let the cheesecake freeze completely (4 to 5 hours or overnight).
2. Prepare the cake: Bake two- 9-inch round strawberry cake layers (your recipe preference- see ingreds and tips for suggestions)
3. Prepare the frosting: Use an electric mixer to combine the cream cheese and the butter, and beat until smooth. Add the vanilla, strawberry puree and cream and continue to mix until well combined. Mix in 2 cups of the powdered sugar. Add the third cup a little at a time until you reach a consistency that you're happy with. You may not use it all, or you may use more. It just needs to be thick enough to be spreadable.
4. Assemble the cake: Place one cake layer into the center of a cake plate or platter. Remove the cheesecake from the freezer, take off the sides of the pan, and slide a knife under the the cheesecake to release it from the pan. Trim the cheesecake, as needed to match the size of your cake layers (see *Tips). Place the cheesecake layer on top of the first cake layer. Place the second cake layer on top of the cheesecake.
5. Frost the cake: Apply a crumb coat layer of frosting to the cake (see *Tips), and refrigerate the cake for 30 minutes, or until the frosting is set. Apply the second layer of frosting, if needed. Decorate, as desired, and refrigerate until ready to serve.
You may also be interested in my other cheesecake cakes:
Red Velvet Cheesecake Cake
Chocolate Cheesecake Cake
Green Velvet Cheesecake Cake