Butterfinger Rice Krispie Treats
I may have mentioned my weight-loss Biggest Loser competition a few weeks ago. Yeah, I'm still trudging along with it, losing slowly (the way you're supposed to, right??) and trying to maneuver my way through managing a food blog and writing a cookbook in the process. I'm in the final week of this "loser" competition, so you'd think I'd be sipping Miso soup and dunking carrots in fat-free Ranch dressing… but no- I'm making things like this: Butterfinger Rice Krispie Treats.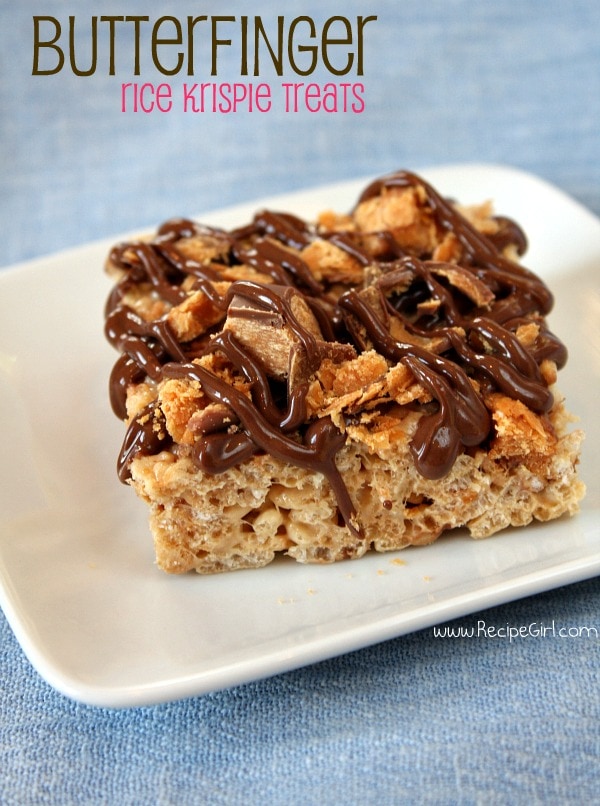 My husband and kiddo headed out of town for a couple of days to let me "focus" on cookbook writing, and as soon as they left I tore apart the kitchen to figure out something fun to make for my blog post today. This is pretty much what I had in the pantry, so this is what you get today. It's funny how things work out. I never would have thought in a million years that I had anything in the house very exciting to make for the blog, but here I had butterfingers and marshmallows just sitting there and waiting to be combined with some Krispies. It turned out to be a pretty darn good little Krispie treat.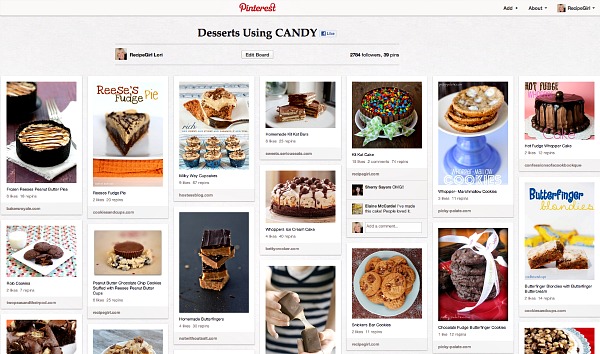 Are you on Pinterest? It's a fun site where you can keep a collection of "bulletin boards" on any topic you'd like. When you find photos of things around the internet, you "pin" them onto your bulletin boards and other people can view your boards and share their finds with you too. You can find me there and follow me if you'd like. I pin mostly recipes and unique holiday-related things that I find from around the web. You can take a peek at what a "board" looks like with my most recently added board: "Desserts Made With Candy." I'm obsessed.  If you're not already signed up for Pinterest, it's going to say that you need an invite to join. I'm happy to send you one if you want to leave your email address in the comments below.  Or you can just get added to their "waiting list" and wait for them to add you (my son got in on his own within a week's time).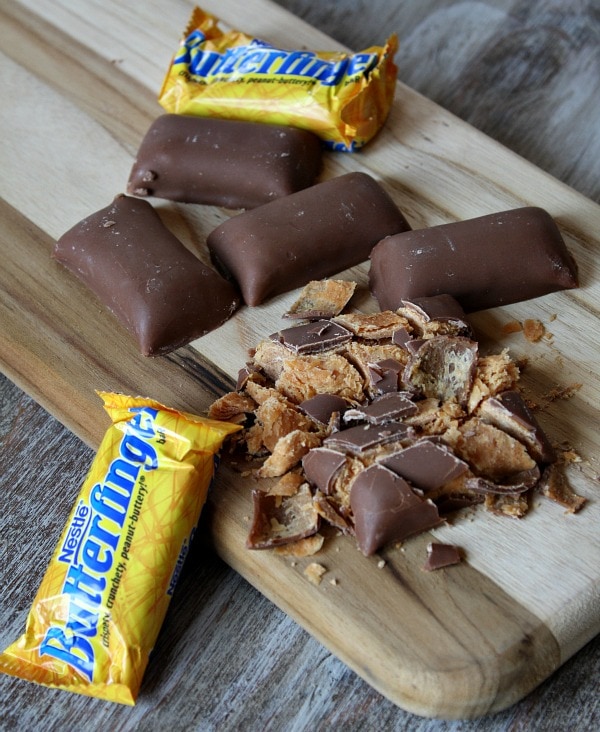 Butterfingers! Are you a fan? I've made a few things with butterfingers: Butterfinger Cookies, Butterfinger Blondies, Butterfinger Pie, Butterfinger Brownies and Butterfinger Truffles. It's pretty safe to say that Butterfingers can go in just about any dessert and do it justice.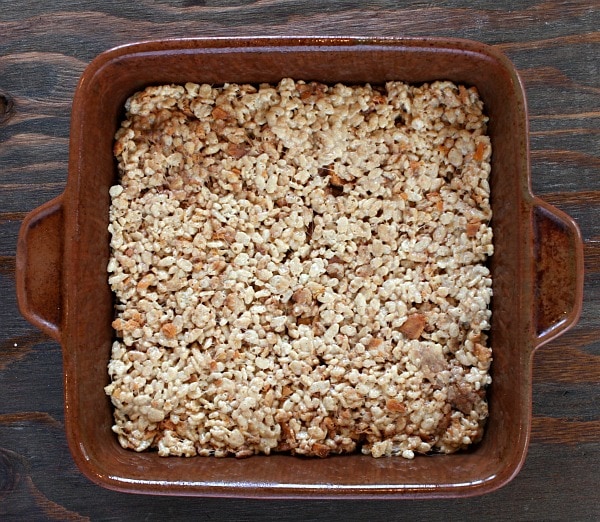 I scaled down the large version of a rice krispie treat and made mine in an 8×8-inch pan. I added peanut butter and chopped Butterfingers into the mix. They just weren't all that exciting to look at. They were exciting to EAT, however. Those little chunks of Butterfinger in there were a totally delicious addition.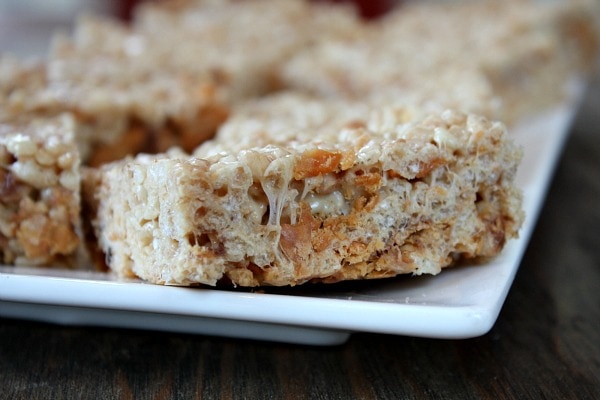 But they needed chocolate drizzle in a big way…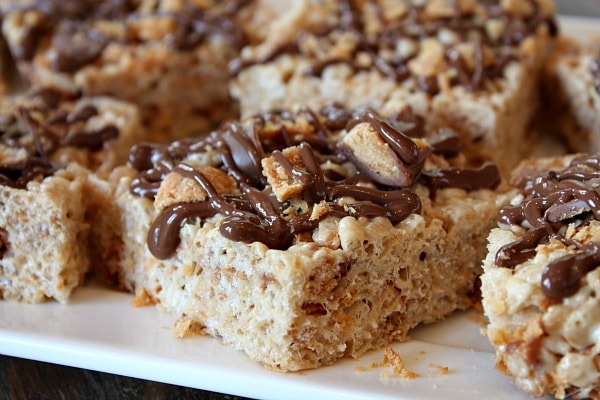 …and then I thought that they definitely needed more Butterfingers too.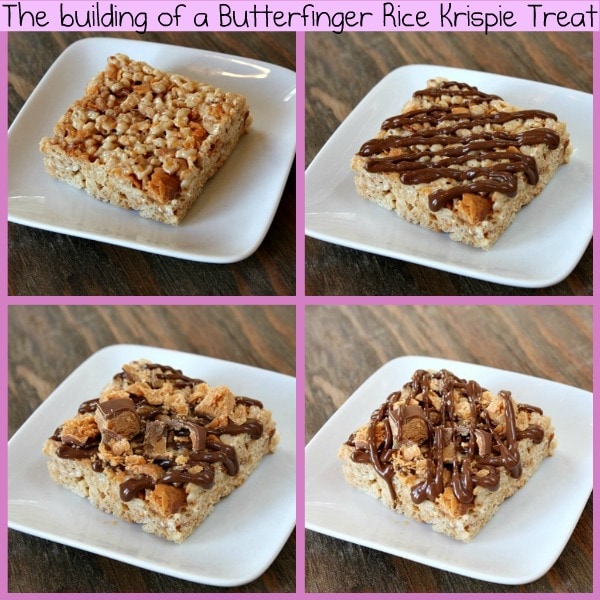 If you're gonna go with Butterfingers, you should go big, right? Yeah, this was the way to go with these.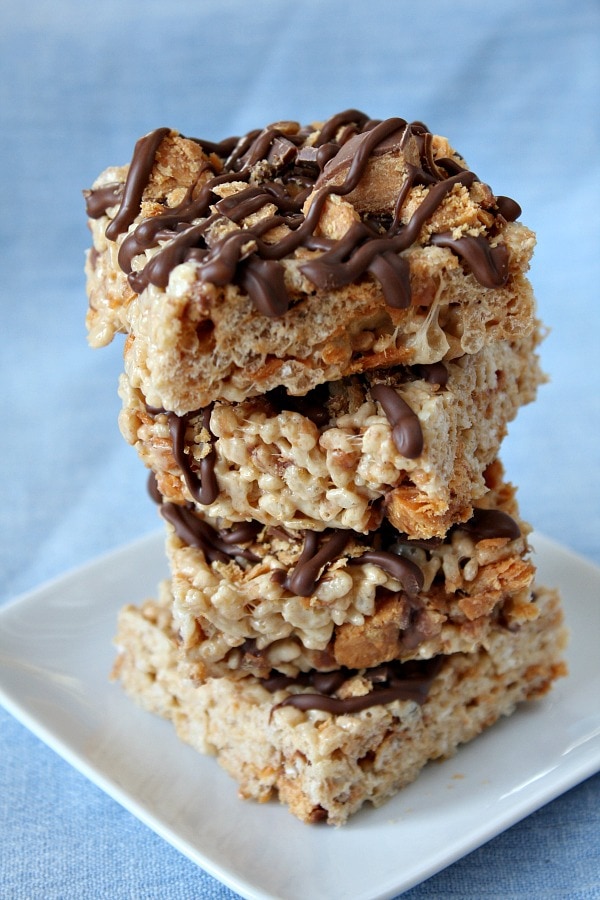 And now I have a stack of these in my kitchen and no boys in the house to eat them up. I admit to sampling one for testing purposes (omg!), but I'm absolutely dying just sitting here and staring at these lovelies in the kitchen with great will power not to eat ANY of it. See how much I sacrifice and suffering I go through for my blog readers? 😉
I plan to work really hard this week to eat light, power out the Spin classes and get a few good runs in before my final weigh-in next Saturday. I'll share the juicy details and results with you soon…
Yield: 9 Krispie Treats
Prep Time: 25 min
Cook Time: 5 min
Butterfinger Rice Krispie Treats
Jazz up your Rice Krispie Treats with peanut butter, chocolate drizzle and Butterfinger candy bars!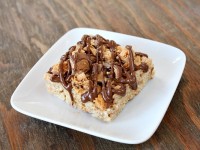 Ingredients:
1 tablespoon salted butter
1/4 cup creamy peanut butter
28 large marshmallows (or 3 1/2 cups mini marshmallows)
4 cups Rice Krispies
8 pack of .65-ounce Butterfinger candy bars (from your candy aisle... or 5.2-ounces equivalent), chopped into chunks
1/2 cup milk chocolate chips
1 teaspoon shortening
Directions:
1. Spray an 8x8-inch pan with nonstick spray.
2. In a large saucepan, melt the butter and peanut butter together over medium heat. Add the marshmallows- stir until melted. Remove from heat and stir in the Rice Krispies. Stir in the Butterfingers (setting about 1/4 cup aside for the topping). Scrape the mixture into the prepare pan and press it evenly into the pan with clean hands. Let it cool.
3. Cut the Krispie Treats into nine equal pieces and move them to a platter. If you plan to eat them as they are, store them in a covered container. If you'd like to add the topping, continue with the directions.
4. Heat the chocolate chips and the shortening in a small glass bowl in the microwave (or in a small saucepan on the stove) until they are melted and smooth. Spoon the chocolate into a zip baggie, snip the corner and squeeze the chocolate into the corner. Drizzle chocolate onto each Krispie Treat, sprinkle with Butterfinger chunks and then drizzle more chocolate on top. Place the Krispie Treats in the refrigerator for 10-minutes-only to set the chocolate, then remove them from the refrigerator and store them in a covered container.