Baked Penne with Spinach, Roasted Peppers and Bacon
I created this recipe to enter into a recipe contest. I didn't win, but we did love the recipe!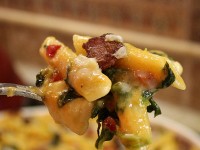 Ingredients:
SAUCE:
16 ounce container of Pacific Natural Foods Roasted Red Pepper & Tomato Soup
2 cups 2% milk
4 Tablespoons butter
1/4 cup all-purpose flour
freshly ground pepper, to taste
PASTA:
1 pound penne pasta (or ziti), cooked until tender, but still firm to the bite
1 package frozen chopped spinach, thawed & squeezed dry
3/4 cup chopped jarred roasted red peppers
1 1/2 cups cubed Provolone cheese
8 slices of cooked bacon, crumbled
1 1/2 cups shredded Parmesan cheese, divided
Freshly ground black pepper
kosher salt
Directions:
1. Preheat oven to 350 degrees F. Spray 9x13-inch pan (or other 2 1/2-quart baking dish) with nonstick spray.
2. Prepare sauce: Heat soup and milk in a medium saucepan until small bubbles begin to form around the edges (just until hot). In a larger saucepan, melt butter over medium-low heat. Add flour and stir well. Continue to cook, stirring, until thick and smooth, about 2 minutes. Slowly begin adding hot soup/milk mixture to the large saucepan, whisking constantly while adding. Sauce will start out lumpy and become smooth as the liquid is incorporated.
3. Assemble the dish: In a large bowl, toss cooked pasta with the sauce. Break apart the spinach with your fingers and add it to the bowl. Also add red peppers, provolone cheese and 3/4 cup of Parmesan. Stir until ingredients are evenly distributed. Pour the mixture into the prepared dish. Sprinkle with bacon crumbles and top with remaining Parmesan cheese. Finish with a good dose of freshly ground black pepper and a sprinkle of kosher salt.
4. Cover with aluminum foil. Bake 25 minutes. Uncover and bake until sauce is bubbling around the edges and the center is hot (about 10 minutes more). Remove from the oven and let cool for about 10 minutes before serving.
Source: www.RecipeGirl.com