Sauteed Chicken w/ Dill Orzo & Tomatoes
A 5-ingredient, 15 minute dinner!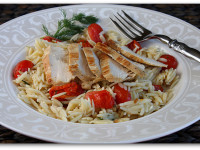 Ingredients:
1 pound seasoned/marinated chicken breasts (lemon, garlic, or herb), pounded thin
1 1/2 cups dry orzo pasta
2 Tablespoons chopped fresh dill
1 1/2 cups sliced pear tomatoes
1 lemon, cut into wedges
olive oil, salt & pepper
Directions:
1. Fill medium saucepan with about 2 quarts of water. Cover & bring to a rolling boil.
2. In a large skillet, swirl in about 1 Tbsp. olive oil; heat to medium-high. Place chicken breasts in the pan and cover with a lid. Saute 4 to 5 minutes on each side, just until cooked through.
3. While chicken is cooking, boil the orzo for 10 to 12 minutes, or until tender. Drain. Pour orzo back into the saucepan. Add a swirl of olive oil, fresh dill and tomatoes. Stir to combine.
4. Divide orzo- tomato mixture between 4 bowls. Add salt and pepper, to taste. Slice chicken breasts and place them on top of the orzo. Serve with lemon wedges.