Dulce de Leche Pumpkin- Toffee Pie
This is a really good and RICH pie!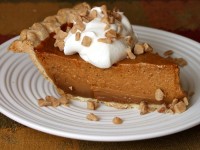 Ingredients:
1 deep dish pie crust (frozen or make your own)
3/4 cup canned dulce de leche (about- maybe a little less)
2 large eggs
One 15-ounce can of pure pumpkin puree (not pumpkin-pie filling)
1 cup firmly packed brown sugar
2 Tablespoons all-purpose flour
1 Tablespoon pure vanilla extract
1/2 teaspoon salt
1 teaspoon ground cinnamon
3/4 teaspoon ground ginger
1/4 teaspoon ground nutmeg
One 12-ounce can evaporated milk
whipped cream and toffee bits for garnish, if desired
Directions:
1. Preheat oven to 375°F. Place rack on bottom.
2. Press pie crust into a deep-dish pie pan (or remove frozen pie crust from freezer).
3. Scoop dulce de leche into glass bowl and microwave about 20 seconds to soften it up a bit. Spoon dollops of dulce de leche into the pie crust. Evenly spread the caramel all the way to the edges.
4. Whisk eggs in a medium bowl. Whisk in pumpkin and next 7 ingredients until smooth. Whisk in milk. Pour filling on top of the caramel and place pan on a baking sheet to catch any caramel that may bubble out.
5. Bake on bottom oven rack for about 50 minutes (center should jiggle just slightly). Cool completely. Garnish with whipped cream and toffee bits, if desired.