Five Minute Salad
For a quickie salad recipe, I thought this one was a real keeper. The simple dressing is perfect with the tangy goat cheese and beans.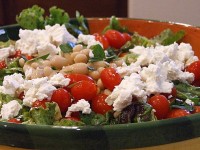 Ingredients:
12 ounces (8 cups) mixed salad greens
3 Tablespoons extra-virgin olive oil
2 Tablespoons balsamic vinegar
1/2 teaspoon Dijon mustard
salt & pepper, to taste
1 1/2 cups cherry tomatoes
1 cup canned cannelini beans, drained & rinsed
4 ounces (1/2 cup) crumbled goat cheese
2 Tablespoons fresh basil leaves, torn into small pieces
Directions:
1. Place greens into a large bowl, whisk together oil, vinegar, mustard, salt and pepper, to taste. Drizzle dressing over greens and toss.
2. For a nice, clean look to each salad, divide greens onto 4 plates. Top each with about 7 tomatoes, 1/4 cup beans and 2 Tablespoons goat cheese. Sprinkle with basil and serve.