Avocado- Pine Nut Salad
This has been my family's favorite salad recipe for years and years. Every family gathering we have, this salad makes an appearance!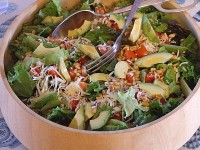 Ingredients:
2 medium vine-ripened tomatoes, chopped
1 head green leaf lettuce, chopped
1 head red leaf lettuce, chopped
1 large avocado, chopped
1/3 cup pine nuts, toasted
1/4 cup mozzarella cheese, shredded
DRESSING
4 Tablespoons white wine vinegar
3 Tablespoons olive oil
1 1/2 Tablespoons Dijon mustard
salt and pepper, to taste
Directions:
1. Place dressing ingredients in shaker jar. Shake well and refrigerate until chilled.
2. Prepare salad ingredients and toss with chilled dressing.
3. Serve immediately.
Nutritional Information per serving:
Serving size: 1/8th of the salad
Calories per serving: 179
Fat per serving: 14g
Saturated Fat per serving: 2g
Sugar per serving: 1g
Fiber per serving: 6.25g
Protein per serving: 5g
Cholesterol per serving: 2.5mg
Carbohydrates per serving: 12g
WW POINTS per serving:
Points Plus Program: 5 Old Points Program: 5.5