Apple- Walnut Salad w/ Cranberry Vinaigrette
I thought this was a really great, simple fall salad recipe. You can certainly add some goat cheese or blue cheese crumbles, but they're really not necessary. It's good on its own.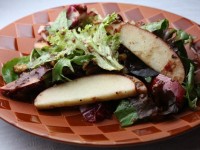 Ingredients:
1/4 cup fresh or frozen cranberries, thawed
1/4 cup balsamic vinegar
1 Tablespoon chopped red onion
1 Tablespoon granulated white sugar
1 teaspoon Dijon mustard
1 cup vegetable or canola oil
10 cups mixed baby greens
2 medium Red Delicious or Honeycrisp apples, cored & thinly sliced
1/2 cup chopped walnuts, toasted
Directions:
1. Puree cranberries in processor until smooth. Add vinegar, onion, sugar and mustard and process until well blended. With processor running, gradually add oil and process until well blended. Transfer to medium bowl. Season to taste with salt and pepper. (Can be made 1 day ahead. Cover; chill. Bring to room temperature and whisk before using).
2. Combine greens and apples in large bowl. Toss with enough dressing to coat. Sprinkle with walnuts. Serve, passing remaining dressing separately.