Roasted Green Beans w/ Lemon, Pine Nuts & Parmigiano
This is a terrific side dish to meats. Roasting the green beans with the lemon brings out a wonderful flavor.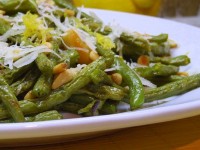 Ingredients:
1 1/4 pounds fresh green beans, rinsed well, ends trimmed
1 small head garlic
1/4 cup + 1 Tablespoon extra-virgin olive oil, divided
1 1/2 Tablespoons finely grated lemon zest (from 1 to 2 medium lemons), divided
1 1/2 Tablespoons freshly squeezed lemon juice
1 teaspoon kosher salt
1/2 teaspoon freshly ground black pepper
1/3 cup pine nuts
1/4 cup coarsely grated Parmigiano- Reggiano cheese
1 Tablespoon coarsely chopped fresh flat-leaf parsley
Directions:
1. Preheat oven to 450°F.
2. Put beans in large mixing bowl. Peel garlic and quarter each clove lengthwise. Add garlic to green beans. Toss together with 1/4 cup of olive oil, 1 Tablespoon lemon zest, salt and pepper.
3. Spread beans on a rimmed baking sheet and roast on the middle rack of the oven for 10 minutes. Give the beans a stir. Continue roasting until the beans and garlic pieces are lightly browned and tender throughout, 10 to 15 minutes longer.
4. Meanwhile, toast the pine nuts in a small pan. Heat the pan and toast them dry over low heat, stirring constantly until they begin to brown lightly and give off that toasted nut scent.
5. Transfer the beans to a small serving platter or shallow bowl; add lemon juice and the remaining 1 Tablespoon olive oil. Toss gently to coat and season to taste with additional salt and pepper. Sprinkle on the toasted pine nuts, the remaining 1/2 Tablespoon lemon zest, the Parmigiano, and the parsley. Serve hot or at room temperature.