Oven- Roasted Green Beans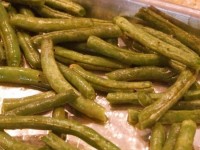 Ingredients:
2 pounds fresh green beans, trimmed
4 teaspoons extra-virgin olive oil
1 teaspoon sea salt
1/2 teaspoon freshly ground black pepper
Directions:
1. Preheat oven to 425° F.
2. Place a jelly-roll pan in oven for 10 minutes.
3. Place beans in a large bowl. Drizzle with oil, sprinkle with salt and pepper. Toss well to coat. Arrange green bean mixture in a single layer on pre-heated baking sheet.
4. Bake at 425° F. for 8 minutes, or until crisp-tender.
Nutritional Information per serving:
Serving size: 1/10 of the recipe
Calories per serving: 45
Fat per serving: 2g
Saturated Fat per serving: .25g
Sugar per serving: 1.25g
Fiber per serving: 3g
Protein per serving: 1.5g
Cholesterol per serving: 0mg
Carbohydrates per serving: 6.5g
WW POINTS per serving:
Points Plus Program: 1 Old Points Program: 1.5