Roasted Asparagus w/ Balsamic Browned Butter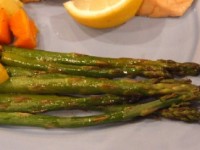 Ingredients:
40 whole asparagus spears
1/4 teaspoon kosher salt
1/8 teaspoon black pepper
2 Tablespoons butter
2 teaspoons low-sodium soy sauce
1 teaspoon balsamic vinegar
Directions:
1. Preheat oven to 400°F.
2. Arrange asparagus in a single layer on a baking sheet; coat with cooking spray. Sprinkle with salt and pepper. Bake for 12 minutes or until tender.
3. Melt butter in small skillet over medium heat; cook for 3 minutes or until lightly browned, shaking pan occasionally. Remove from heat; stir in soy sauce and vinegar. Drizzle over the asparagus, tossing well to coat. Serve immediately.
Nutritional Information per serving:
Serving size: 5 asparagus
Calories per serving: 38
Fat per serving: 3g
Saturated Fat per serving: 2g
Sugar per serving: 0g
Fiber per serving: 1.25g
Protein per serving: 1.5g
Cholesterol per serving: 7.5mg
Carbohydrates per serving: 2.5g
WW POINTS per serving:
Points Plus Program: 1 Old Points Program: 1.5