Slow- Cooked Carnitas Tacos
This is a super easy recipe to make. Throw the pork and spices in the crockpot and leave for the day. It shreds easily and then you put it into tortillas for dinner!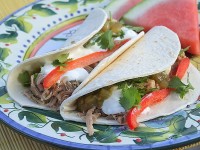 Ingredients:
2 pounds boneless country- style pork ribs or pork shoulder (Boston Butt), cut into 1 1/2-inch pieces
2 teaspoons salt
2 teaspoons ground black pepper
2 teaspoons dried oregano (preferably Mexican)
1/2 large onion, cut into 4 pieces
1 large avocado, halved, pitted & sliced
fresh cilantro & sliced red bell peppers
tortillas (corn or flour)
green chile salsa
Directions:
1. Toss pork in bowl of slow cooker with salt, pepper, and oregano to coat. Place onion pieces atop pork. Cover slow cooker and cook pork on low setting until meat is very tender and falling apart, about 6 hours.
2. Using slotted spoon, transfer pork to cutting board. Discard onion pieces. Using fingers, shred pork; transfer carnitas to platter. Place avocado slices, cilantro sprigs, and sliced red bell peppers, if desired, alongside. Wrap corn or flour tortillas in damp kitchen towel; microwave until warm, about 1 minute. Serve carnitas with warm tortillas and green salsa.