Yield: 16 small scones or 12 big ones
Prep Time: 25 min
Cook Time: 18 min
Chocolate Chip- Toffee Scones
I'd have to say that these are among the best scones I've ever eaten. I'm a toffee fanatic so I loved those melted little bits within these scones. Delicious!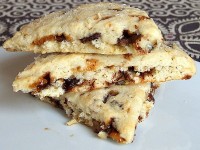 Ingredients:
SCONES:
3 1/4 cups all-purpose flour
1/2 cup granulated white sugar
1 tablespoon plus 1/4 teaspoon baking powder
1/4 teaspoon salt
1 cup semisweet, milk or dark chocolate chips
1/2 cup walnuts, toasted and then chopped into small pieces
1 cup chopped Heath or Skor bars (or use toffee bits)
2 cups chilled heavy whipping cream
TOPPING:
2 tablespoons (1/4 stick) unsalted butter, melted
granulated or coarse white sugar
Directions:
1. Preheat oven to 375°F. Lightly butter two heavy large baking sheets.
2. For the scones: In a large mixing bowl, whisk together the flour, sugar, baking powder and salt. Stir in the chocolate chips, nuts and toffee bits.
3. In a large, chilled mixing bowl (chill bowl and beaters in freezer for 15 minutes- or in fridge for an hour), whip the cream until stiff peaks form. Gently fold whipped cream into dry ingredients; combine well. It will be sticky.
4. Turn dough out onto a lightly floured work surface. Knead gently until a soft dough forms; about 2 minutes. Form dough into 2 balls. Pat each ball out into a circle. Place each on a cookie sheet, and cut pie-like into 8 wedges. Pull each wedge out a little bit to create about 1-inch space between each wedge.
5. For the topping: Brush the scones with melted butter. Sprinkle each scone with a bit of granulated or coarse white sugar.
6. Bake until golden brown, about 18 to 20 minutes. Serve warm or at room temperature. Store in airtight container at room temperature.