Amaretto Chicken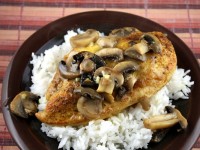 Ingredients:
24 ounces boneless skinless chicken breasts
1 teaspoon salt
1/4 teaspoon pepper
2 teaspoons curry powder
1/4 cup all-purpose flour
2 tablespoons salted butter
3 cups sliced mushrooms
1 clove garlic, minced
3 tablespoons Amaretto
2 tablespoons freshly squeezed lime juice
1 cup low-sodium chicken broth
steamed rice, for serving
Directions:
1. Sprinkle chicken breasts with salt, pepper and curry powder and rub in well. Coat with flour (reserving the rest of the flour for later use).
2. In large skillet, melt butter and brown chicken on all sides. Add mushrooms, garlic, lime juice, and amaretto. Stir well and cook for 1 minute.
3. In small bowl, whisk chicken broth into reserved flour and add to chicken mixture. Cover skillet, reduce heat to low and simmer for about 30 minutes. Serve over rice.