Snickers Bar Pie
This pie won a blue ribbon in the kid's division at the San Diego County Fair, and it also received a 2nd place prize in a community pie contest.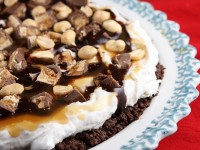 Ingredients:
8 ounces cream cheese, softened
1 1/2 cups powdered sugar
1/2 cup chunky or creamy peanut butter
3 regular-sized Snickers candy bars, chopped
16 ounces Cool Whip, thawed (or about 6 cups of stiffly whipped, sweetened cream)
Two prepared graham cracker pie crusts or chocolate cookie pie crusts
chocolate syrup, caramel syrup, chopped snickers and chopped peanuts for garnish
Directions:
1. In a large mixing bowl, beat cream cheese sugar and peanut butter until creamy.
2. Stir in chopped candy bars.
3. Gently fold in the whipped cream just until mixed.
4. Divide between the two crusts. Drizzle chocolate and caramel syrup on top and sprinkle with chopped peanuts and additional chopped snickers. Keep in refrigerator until ready to serve.