Low Fat Pumpkin Cheesecake
This cheesecake is creamy and delicious. And it definitely feels like cheating.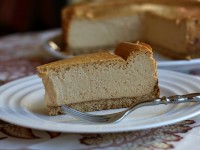 Ingredients:
CRUST:
56 reduced-fat vanilla wafers (about 8 ounces)
1 Tablespoon butter, melted
FILLING:
3 (8-ounce packages) fat-free cream cheese, softened
2 (8-ounce packages) 1/3 less-fat cream cheese, softened
1/2 cup granulated white sugar
1/2 cup packed brown sugar
3 Tablespoons all-purpose flour
1 teaspoon ground cinnamon
3/4 teaspoon ground nutmeg
3/4 teaspoon ground ginger
1/4 teaspoon salt
dash of allspice
2 teaspoons vanilla extract
4 large eggs
1 (15-ounce) can unsweetened pumpkin puree
Directions:
1. Preheat oven to 400° F.
2. Prepare crust: Place cookies in a food processor; pulse until finely ground. Add butter; pulse 10 times or until mixture resembles coarse meal. Firmly press mixture into bottom of a 9-inch springform pan coated with cooking spray. Bake for 10 minutes; cool on wire rack.
3. Reduce oven temperature to 325° F.
4. Prepare filling: Beat cream cheeses with mixer at high speed until smooth. Add granulated sugar and next 8 ingredients (granulated sugar through vanilla), beating well. Add eggs, 1 at a time, beating well after each addition. Add pumpkin; beat well.
5. Pour filling into prepared crust; bake at 325° for 1 1/2 hours or until almost set. (Cheesecake is done when the center barely jiggles when pan is touched).
6. Remove cheesecake from oven; run a knife around the outside edge. Cool to room temperature; cover and chill at least 8 hours.
Nutritional Information per serving:
Serving size: 1/16th of the cheesecake
Calories per serving: 282
Fat per serving: 10.77g
Saturated Fat per serving: 5.2g
Sugar per serving: 19.47g
Fiber per serving: .54g
Protein per serving: 11.93g
Cholesterol per serving: 84.77mg
Carbohydrates per serving: 33.78g
WW POINTS per serving:
Points Plus Program: 7 Old Points Program: 6.5