Yield: 5 dozen (3-inch) cookies
Prep Time: 45 min + chill time
Cook Time: 8 min
No- Fail Sugar Cookies
This is a wonderful recipe for decorator cookies of any type- the dough rolls out easily and the cookies turn out sturdy and delicious.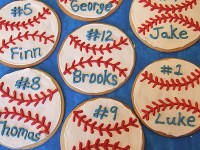 Ingredients:
2 cups butter, softened
2 cups granulated white sugar
6 cups all-purpose flour
3 teaspoons baking powder
2 large eggs
2 teaspoons vanilla extract (or desired flavoring- such as almond)
1 teaspoon salt
Directions:
1. In a large bowl, use an electric mixer to cream butter and sugar until light and fluffy. Add eggs and vanilla. Mix well. Whisk together dry ingredients in a separate bowl, and add a little at a time to butter mixture. Mix until flour is completely incorporated and dough comes together.
2. Cover and chill for 1 to 2 hours (or see tips below).
3. Preheat oven to 350°F. Make sure you let your oven preheat for at least 1/2-hour before baking these or any other cookies.
4. Roll to desired thickness and cut into desired shapes. Bake on ungreased baking sheet for 8 to 10 minutes, or until just beginning to brown around the edges. (longer time for thicker cookies)
5. Gently remove cookies with a spatula and let them cool on wire racks.