Yield: 12 slices
Prep Time: 20 min + chill time
Fudgy Chocolate Peanut Butter Cup Icebox Cake
What began as a quest to incorporate cream cheese into a new recipe, turned into this wonderfully delicious no-bake "cake." Add as many peanut butter cups as you'd like, and be generous with the fudge!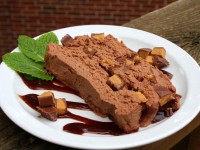 Ingredients:
2 (15-ounce) containers of whole or lowfat ricotta cheese
1 (8-ounce) package of cream cheese (regular or lowfat), softened
1 (12-ounce) package of chocolate chips- semi sweet or milk chocolate, melted
10 regular-sized peanut butter cups, chopped into chunks
About 2 cups of fudge sauce
Directions:
1. Line a 5x9-inch loaf pan with parchment paper- leaving a little bit overhanging on two sides, then spray with nonstick spray.
2. In a large bowl, mix together ricotta and cream cheese with an electric mixer until smooth and creamy. Add in melted chocolate; mix until combined.
3. Scoop one-third of the chocolate mixture into the loaf pan and use a rubber spatula to smooth into an even layer. Sprinkle one-half of the peanut butter cup chunks on top. Drizzle with about 1/2 cup of fudge sauce. Scoop another third of the chocolate mixture on top of the peanut butter cup/fudge layer; smooth out so it's even. Sprinkle with remaining peanut butter cups and another drizzle of 1/2 cup of fudge sauce. Scoop remaining chocolate mixture on top; smooth out.
4. Refrigerate at least 12 hours (or overnight). When ready to serve, lift the loaf out of the pan and place onto a cutting board. Slice and serve on a plate that has been drizzled with more fudge sauce. Sprinkle with additional peanut butter cups, if desired.