Yield: 24 bars
Prep Time: 30 minutes + chill time
Cook Time: 25 minutes
Mint Chocolate Squares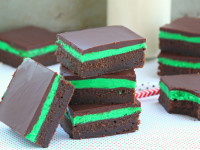 Ingredients:
CRUST:
1 cup all-purpose flour
1 cup granulated white sugar
1/2 cup (1 stick) butter, softened
4 large eggs
One 24-ounce container Hershey's Chocolate Syrup
MINT CREAM LAYER
2 cups powdered sugar
1/2 cup (1 stick) butter, softened
1 tablespoon water
1/2 teaspoon peppermint extract (NOT spearmint)
3 drops green food coloring
CHOCOLATE TOPPING
6 tablespoons (3/4 stick) butter
1 cup mint or semi-sweet chocolate chips
Directions:
Preheat the oven to 350 degrees F. Grease and flour a 9x13-inch pan.
Prepare the crust: In medium bowl, use an electric mixer to beat the flour, sugar, butter, eggs and chocolate syrup until smooth. Pour into the prepared pan and bake 25 to 30 minutes. Cool completely.
Prepare the mint cream layer: Use an electric mixer to combine the powdered sugar, butter, water, mint extract, and green food coloring. Spread evenly over the cooled cake. Chill.
Prepare the chocolate topping: Microwave on high the butter and chocolate chips until melted (or heat on low in a small saucepan on the stove). Stir until smooth. Pour the chocolate topping on top of the mint layer. Spread evenly. Cover and chill. Cut into squares when firm.
SOURCE:  RecipeGirl.com (from my Mom... who got it from somewhere a long time ago)