Lemon Bars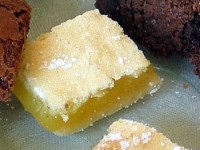 Ingredients:
CRUST:
1 cup (2 sticks) unsalted butter, at room temperature
2/3 cup powdered sugar
2 cups all-purpose flour
FILLING:
2 cups granulated sugar
4 large eggs
1/4 cup finely grated lemon zest (you'll need about 6 large lemons)
1/2 cup freshly squeezed lemon juice (with the pulp)
1 teaspoon baking powder
1/4 cup all-purpose flour
additional powdered sugar for dusting
Directions:
1. Preheat oven to 350 degrees F. Spray 13x9-inch pan with nonstick spray.
2. In a large bowl, beat butter with an electric mixer until fluffy. Beat in 2/3 cup powdered sugar. Add 2 cups of flour a little at a time, beating until lumps begin to form.
3. Press dough over the bottom of the prepared pan (use a fork to press). Bake until crust is light golden, about 20 minutes.
4. While crust is baking, beat sugar and eggs in a medium bowl until blended. Beat in lemon juice and zest, baking powder, and then flour.
5. Pour lemon filling over hot crust. Bake until filling is set in the center and browns on top (about 20 minutes). Transfer to rack to cool.
6. When completely cooled, cut into bars. Dust with powdered sugar.