Pumpkin Bread
Every year during the fall holidays, I begin baking loaves and loaves of this incredibly moist and delicious spiced pumpkin bread for friends and neighbors. It's the best pumpkin bread recipe ever!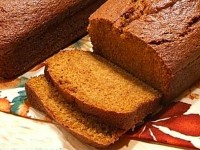 Ingredients:
4 large eggs
3 cups granulated white sugar
1 cup canola or vegetable oil (or 1/2 cup oil & 1/2 cup unsweetened applesauce)
3 cups all-purpose flour
2 teaspoons baking soda
1/2 teaspoon baking powder
2 teaspoons ground cinnamon
1 teaspoon nutmeg
1 teaspoon ground cloves
1 teaspoon allspice
1 teaspoon salt
2 cups pure (unsweetened) pumpkin puree
2/3 cup water
Directions:
1. Preheat oven to 350 degrees F. Grease and flour two 9x5-inch loaf pans. You can use 8x5 pans too, but they'll rise quite high while baking.
2. In large bowl, whisk together eggs, sugar and oil.
3. In a separate bowl, whisk together dry ingredients (flour through salt) and then stir it into the wet mixture. Add pumpkin and water and stir until combined.
4. Divide the batter between the prepared pans. Bake for 1 hour and 15 minutes, or until toothpick inserted in the center comes out clean.