Cherry- Oat Scones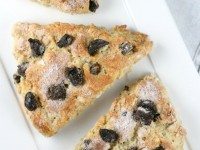 Ingredients:
SCONES:
1 1/2 cups all-purpose flour
1 cup oats
1/4 cup granulated white sugar
1 1/2 teaspoons baking powder
1/2 teaspoon baking soda
1/4 teaspoon salt
1/4 teaspoon ground cinnamon
1/4 teaspoon ground nutmeg
1/4 cup butter, chilled
1/2 cup dried cherries
1/3 cup nonfat milk
1/4 cup plain nonfat yogurt
1 large egg, lightly beaten
TOPPING:
1 tablespoon granulated white sugar mixed with 1/8 teaspoon ground cinnamon
Directions:
1. Preheat the oven to 400 degrees F. Lightly grease a baking sheet with nonstick spray, or line with parchment paper.
2. In a large bowl, whisk together the flour, oats, sugar, baking powder, baking soda, salt, cinnamon and nutmeg. Cut in the butter with pastry blender or two knives until mixture resembles coarse crumbs. Stir in the dried cherries. In a separate bowl, combine the milk, yogurt and egg, and then add it to the flour mixture; mix with a fork just until dry ingredients are moistened.
3. Turn the dough out onto lightly floured surface; knead gently 8-10 times. Roll or pat the dough into 8-inch circle about 1-inch thick. Sprinkle with the topping mixture. Cut the circle into 10 wedges with a sharp knife, originating from the center of the circle; place the wedges on the prepared baking sheet.
4. Bake for 10-14 minutes, or until light golden brown. Serve warm.
SOURCE: RecipeGirl.com (recipe given to RG- not certain of origin)