Irish Soda Bread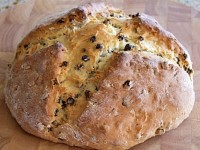 Ingredients:
4 cups all-purpose flour
1/4 cup granulated white sugar
3 teaspoons baking powder
1 teaspoon salt
1 teaspoon baking soda
4 tablespoons (1/2 stick) butter
2 cups currants (or seedless raisins)
1 large egg, lightly beaten
1 3/4 cups buttermilk
2 tablespoons caraway seeds (optional)
Directions:
1. Preheat oven to 375 degrees F. Grease two 8-inch round cake pans or cookie sheet.
2. Combine dry ingredients in a large bowl. Add butter and cut in with a pastry blender until crumbly. Mix in currants. Beat egg and buttermilk (and caraway seeds, if using) into dry ingredients until blended.
3. Turn dough onto floured cutting board and knead until smooth (2-3 minutes), adding more flour as needed if dough is too wet to handle. Divide dough in half and shape into rounds.
4. Place rounds into cake pans or onto cookie sheet. Press down and cut crosses on top, 1/2-inch deep.
5. Bake 35-40 minutes.