Honey Glazed Chicken Wings
This was part of our Superbowl menu one year. I made them in a crockpot and then finished them off to dry them out a little bit in the oven. They were very good. I might do them entirely in the oven next time as the crockpot tends to make chicken fall apart.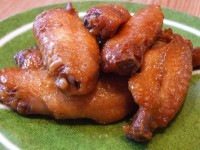 Ingredients:
6 pounds chicken wings
salt & pepper
2 cups honey
1 cup soy sauce
4 Tablespoons vegetable oil
4 Tablespoons ketchup
6 cloves garlic, minced
1/4 teaspoon cayenne pepper, optional
Directions:
If wings are whole, remove tips and discard, or freeze to make chicken stock later). Coat with salt and pepper.
Combine remaining ingredients in medium bowl until well mixed.
Cooking options: 1. Preheat oven to 375°F. Place wings in shallow casserole, pour sauce over and bake until chicken is well done and sauce is caramelized, about 1 hour. 2. Place wings in slow cooker, pour sauce over and cook on low 3 to 4 hours.
SOURCE: RecipeGirl.com