Red Velvet Shortbread Cookies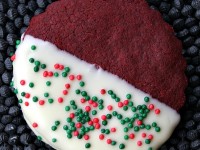 Ingredients:
1 1/4 cups all-purpose flour
1/3 cup granulated white sugar
2 tablespoons unsweetened cocoa powder
1/4 teaspoon salt
1/2 cup butter, (cold) cut up into chunks
1 tablespoon red food coloring
3 ounces white chocolate (with cocoa butter), coarsely chopped
1 1/2 teaspoons shortening
festive sprinkles
Directions:
1. Preheat oven to 325 degrees F. In a food processor, combine flour, sugar, cocoa powder, and salt. Cover and process with on/off turns until combined. Add butter and red food coloring. Process with on/off turns until mixture resembles fine crumbs. Then continue to process until mixture begins to clump together.
2. Scoop dough onto a lightly floured surface and knead lightly until nearly smooth. Roll or pat dough to a 1/2-inch thickness. Using a floured 1-1/2-inch round cutter, cut out dough. Place cutouts 1 inch apart on an ungreased cookie sheet. Press scraps together and reroll.
3. Bake in the preheated oven for 20 to 25 minutes or until centers are set. Transfer cookies to a wire rack; let cool.
4. In a heavy small saucepan, melt white chocolate and shortening over low heat, stirring constantly. Dip half of each cookie into melted chocolate. If desired, sprinkle with festive sprinkles, nonpareils or chopped pistachios. Let stand on waxed paper until set.