Yield: 3 to 4 dozen cookies
Prep Time: 30 min
Cook Time: 12 min
Flourless Peanut Butter Kiss Cookies
These are just as delicious as the variety that contains flour, but this recipe is a nice option for those who can't have gluten.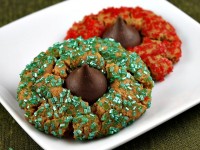 Ingredients:
2 1/2 cups smooth (creamy) peanut butter
1 1/2 cups firmly packed light brown sugar
1 teaspoon baking soda
2 large eggs
2 teaspoons vanilla extract
sugar for rolling (*see tips below)
Hershey's Chocolate Kisses, unwrapped
Directions:
1. Preheat oven to 350 degrees F. Line cookie sheets with parchment or nonstick baking liners. Make room in either freezer (preferred) or refrigerator for cookie sheets (*see step 4).
2. In a large bowl, use a hand mixer at medium speed to beat peanut butter, brown sugar and baking soda until well blended (about 1 minute). Add eggs and vanilla and mix on low speed until just blended.
3. Scoop out about 1 1/2 Tablespoon scoops and roll into 1 1/2-inch balls. Roll into sugar and place about 2-inches apart on cookie sheet.
4. Bake until cookies are puffed and crackled but still a little bit moist looking, 11 to 13 minutes. As soon as you remove the cookie sheet from the oven, press a chocolate kiss into the center of each cookie. Immediately place cookie sheet into the freezer (or refrigerator) to set the kisses (they'll begin to melt a bit as soon as you place them on the cookie). Remove from chill as soon as kisses are set.
Source: RecipeGirl.com (Adapted from a peanut butter cookie recipe by Abby Dodge)