Hot Brie Kisses
These are a quick and easy appetizer that can be made ahead and then popped into the oven when you're ready to serve.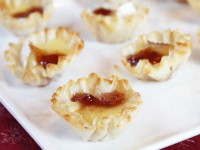 Ingredients:
2/3 lb. brie cheese
2 boxes phyllo mini shells
hot pepper jelly
Directions:
1. Preheat oven to 400 degrees F.
2. Cut small pieces of brie and place them into frozen phyllo mini shells. Top with a small scoop of pepper jelly. Place on rimmed baking sheet.
3. Bake 5 to 7 minutes, or until cheese is melted and shells are golden.