Easy Chicken Santa Fe
Here's a dinner recipe that will save you on busy weeknights: Easy Chicken Santa Fe made in the slow cooker.  And here is a short video showing you how to make it.  The printable recipe is at the end of this post.
The video shows the cream cheese being dumped into the slow cooker (please cut it into chunks before adding it to the slow cooker).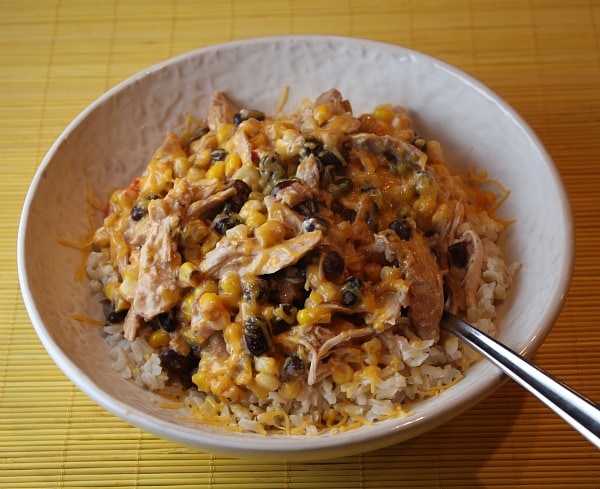 This is such a simple dinner recipe, and it's one of those kinds of recipes that will save you on busy weeknights!  Family seems to love this one as you can customize how you'd like to eat it.
We enjoy Chicken Santa Fe served over hot steamed rice, and then everyone adds their own desired toppings.  I suggest a little lettuce, tomato, and cheese..  Avocado lovers can add avocado too.  It also makes for a great taco filling!
Hint:  Leftover turkey is fabulous in this dish too.  Just substitute cooked turkey for chicken, and cook on the stove instead of the slow cooker until everything is heated up.
Yield: 4 to 6 servings
Prep Time: 20 minutes
Cook Time: 3 hours
Easy Chicken Santa Fe
It's a little embarrassing how easy this is. And your family will think you've gone all out for them. Delicious!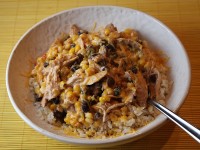 Ingredients:
1 (15 ounce) can black beans, rinsed & drained
1 small bag frozen sweet corn (or 2 cans, rinsed & drained)
1 cup bottled chunky salsa
6 skinless chicken thighs (or 6 skinless chicken breasts- see tips below)
1 (8 ounce) package cream cheese (low fat is fine), cut into chunks
hot, steamed rice
desired toppings:  lettuce, tomato, shredded cheddar, avocado
Directions:
In a slow cooker, add beans, corn and 1/2 cup salsa. Top with the chicken and pour remaining salsa over the chicken. Cover and cook on HIGH for 3 hours, or until the chicken is tender and cooked throughout.
Remove the chicken to a cutting board and cut into bite-sized pieces. Return the chicken to the slow cooker along with the cream cheese. Stir and let cream cheese melt into the mixture to create a creamy sauce.
For serving: You can serve the chicken & sauce over rice with a sprinkle of lettuce, tomato and cheddar cheese on top. Or you can serve these as tacos with cheese and a couple of taco fixings such as lettuce and tomato.
SOURCE: RecipeGirl.com