Yield: 6 (4 ounce) servings
Prep Time: 10 min
Orange- Basil Mojitos
I had this drink while lounging poolside in Vegas. It was so good that I came home and created a version of it myself!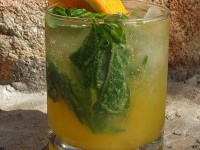 Ingredients:
1/2 bunch fresh basil leaves (picked and stems removed)
1/2 cup granulated white sugar
1 cup freshly squeezed orange juice
1 cup white rum
1 cup club soda
Directions:
1. In the bottom of a medium pitcher, using a wooden spoon or a muddler- crush the basil leaves, sugar and orange juice together. Stir in rum and club soda.
2. Serve immediately in individual glasses over crushed ice. Garnish with orange slices.