Lamb Chops in Caper Sauce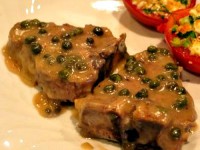 Ingredients:
2 tablespoons butter
4 large loin lamb chops
2 tablespoons all-purpose flour
1/2 cup chicken broth
3 tablespoons sherry
4 tablespoons capers, rinsed and drained
salt and pepper to taste
1 teaspoon brown sugar
Directions:
1. Heat the butter in large skillet over medium-high heat. Fry the chops in the butter for about 5 minutes, browning both sides. Remove from the pan and set aside.
2. Whisk the flour into the pan juices and cook for 2 to 3 minutes. Whisk in the broth and sherry, and then add capers salt, pepper and sugar. Bring slowly to a boil, stirring continuously. Reduce heat until the sauce is at its simmering point.
3. Place the chops back into the pan. Cover with a lid and simmer on low heat for about 15 minutes.
4. Serve chops drizzled with sauce.