Easy Glazed Sweet Potatoes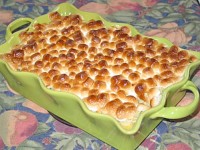 Ingredients:
2 pounds sweet potatoes, cooked (see tips below for cooking)
2/3 cup packed light brown sugar
6 tablespoons butter
2 cups mini marshmallows
Directions:
1. Cube potatoes and place in a microwave-safe 2 quart casserole dish. Sprinkle with brown sugar and dot with butter. Microwave on high 7 to 8 minutes, or until hot and bubbly.
2. Spoon the glaze over the potatoes and stir lightly. Sprinkle with marshmallows. Cover and let sit for 5 minutes. If you'd like your marshmallows to look toasty, give them a minute or two under the oven broiler.