Classic Stuffing
My Mom's classic stuffing recipe (with a little added sausage)...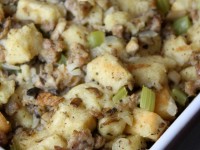 Ingredients:
1 1/2 cups chopped yellow onions
1 cup chopped celery
3/4 cup salted butter
1/2 pound sweet Italian sausage
1/2 cup chopped mushrooms
8 cups stale, fresh unseasoned breadcrumbs/ bread cubes
1 Tablespoon salt
1/2 teaspoon pepper
1 teaspoon sage
1/2 teaspoon thyme
1/2 teaspoon rosemary
1/2 teaspoon nutmeg
1/2 cup white wine
1/2 cup + more, as needed chicken broth
1 large egg, beaten
Directions:
1. In small pan, sauté onion and celery in butter over medium heat until tender. Remove from heat and set aside.
2. In a separate, larger skillet, cook sausage and mushrooms until the sausage is no longer pink. Drain the fat. Add the onion and celery and stir together.
3. In large bowl, combine breadcrumbs and seasonings with sausage/vegetable mixture. Moisten with wine and broth. Add egg and mix well. If the stuffing seems too dry, mix in more broth. You want it to be pretty moist- it will dry out more in the oven.
4. Use this stuffing to stuff your turkey, or place in a greased 9x13-inch casserole dish and bake (covered) at 375 degrees F. for 40 minutes- then remove cover and bake for an additional 10 minutes.