Smoked Pork Chops w/ Maple- Baked Apples
The sweetness of the raisins and apples combined with the pork chop makes this dish delicious!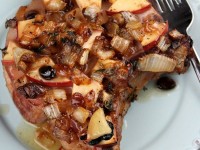 Ingredients:
4 (1-inch) thick smoked pork chops (bone in or boneless)
1 large Rome apple, diced
1/4 cup yellow raisins
1 Tablespoon butter
2 small sliced yellow onions
1 teaspoon chopped fresh thyme
1/4 teaspoon pepper
1/2 cup chicken broth
2 Tablespoons maple syrup
1 Tablespoon all-purpose flour
Directions:
1. Preheat oven to 375 degrees.
2. Brown chops in large, non-stick skillet over medium-high heat for 3 to 5 minutes (turning once). Remove and place in 13x9-inch dish. Spread apple pieces and raisins over the top and along the sides.
3. Add butter, onions, thyme, and pepper to the skillet and cook until onions are browned and tender (about 15 minutes); transfer to baking dish and arrange over and around the chops. Combine chicken broth, syrup and flour. Pour into the baking dish.
4. Cover with foil and bake 25 to 30 minutes, until sauce is bubbling.
If you are preparing this using the nutritional information, look for smaller chops
Nutritional Information per serving:
Serving size: 1 chop w/ apples
Calories per serving: 247
Fat per serving: 5g
Saturated Fat per serving: 3g
Sugar per serving: 18g
Fiber per serving: 2.25g
Protein per serving: 23g
Cholesterol per serving: 59mg
Carbohydrates per serving: 27g
WW POINTS per serving:
Points Plus Program: 6 Old Points Program: 6