Croissant Chicken
This was one of the first recipes I made as a blooming cook back in college. It's easy and is quite yummy. And now my little boy begs me to make it!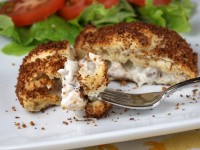 Ingredients:
3 ounces cream cheese
3 Tablespoons butter, melted (divided)
2 cups chicken, cooked & diced
salt and pepper, to taste
2 Tablespoons milk
1 Tablespoon onion, finely chopped
1 (8 ounce) can croissant dinner rolls
3/4 cup seasoned breadcrumbs
Directions:
1. Preheat oven to 350 degrees F.
2. Blend cream cheese and 1 Tablespoon butter until smooth. Mix in chicken, salt, pepper, milk and onions.
3. Separate dough into 4 rectangles- press perforations to eliminate seams. Spoon 1/2 cup of the chicken mixture onto the center of each rectangle. Pull 4 corners of dough to the top. Twist and seal to form a round ball.
4. Brush butter over each ball and roll in crumbs. Bake on un-greased cookie sheet 20-25 minutes.
Source: RecipeGirl.com (but I'm pretty sure this came from Pillsbury originally)