Zucchini- Beef Enchiladas
Great flavor. Nice to get some veggies inside the main dish!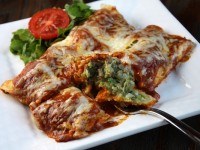 Ingredients:
1 dozen corn tortillas
vegetable oil
1 pound lean ground beef
1 medium yellow onion, minced
2 Tablespoons vegetable or canola oil
4 cups grated zucchini
1 small can sliced olives
2 teaspoons minced garlic
1 Tablespoon ground cumin
salt and pepper to taste
3 cups shredded Monterey Jack cheese, divided
1 large can enchilada sauce (or homemade)
Directions:
1. Preheat oven to 350°F.
2. Fry tortillas in hot oil briefly (just until they soften up); drain on paper towels.
3. Cook beef and onion in 2 Tablespoons hot oil in a skillet over medium heat 10 minutes; drain. Add zucchini and next 4 ingredients to beef mixture; cook 5 minutes. Add 2 cups cheese, stirring well.
4. Pour a little bit of sauce into bottom of 9x13x2-inch pyrex pan. Spoon beef mixture evenly on tortillas; roll up tortillas, and place seam-side-down in pan. Pour enchilada sauce over top and sprinkle with remaining cheese.
5. Bake 15 minutes, or until hot and bubbly.
Source: RecipeGirl.com (Adapted from What Can I Bring?)