Yield: 4 servings (2 thighs per serving)
Prep Time: 15 min
Cook Time: 45 min
Lemon Parmigiano Chicken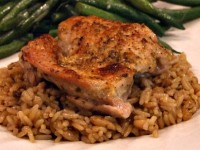 Ingredients:
juice of one lemon
1/4 cup dry vermouth
1 teaspoon Dijon mustard
2 Tablespoons salted butter, melted
1 teaspoon rubbed sage
1 clove garlic, minced
8 bone-in chicken thighs
3 Tablespoons freshly grated or shredded Parmesan cheese
salt and pepper to taste
Directions:
1. Preheat oven to 400°F. Spray a 9x13-inch baking dish with nonstick spray.
2. Whisk together lemon juice, vermouth, mustard, butter, sage and garlic. Place the chicken thighs in prepared baking dish. Pour lemon mixture over all. Sprinkle with Parmesan, salt and pepper. Bake until done (about 45 minutes), basting occasionally with the pan juices. Serve immediately.
Nutritional Information per serving:
Serving size: 2 chicken thighs
Calories per serving: 215
Fat per serving: 10.12g
Saturated Fat per serving: 5.13g
Sugar per serving: .40g
Fiber per serving: .18g
Protein per serving: 17.8g
Cholesterol per serving: 86.63mg
Carbohydrates per serving: 3.49g
WW POINTS per serving:
Points Plus Program: 5 Old Points Program: 5
Source: RecipeGirl.com (via CLBB)