Whole Grain Mustard Aioli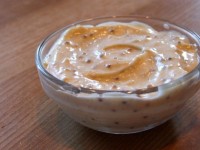 Ingredients:
1 clove garlic, minced
1/4 teaspoon Kosher salt
1 cup mayonnaise
2 tablespoons whole grain Dijon mustard
1 tablespoon freshly squeezed lemon juice
Directions:
In a small bowl, mash garlic with salt. Mix in mayonnaise, mustard and lemon juice. Season with salt and pepper, and refrigerate until ready to serve.
Source: RecipeGirl.com (via Fine Cooking)