Lamb Chops w/ Lemon, Thyme & Mustard Butter
Lamb is my favorite anyways, but this version of chops is so simple and delicious...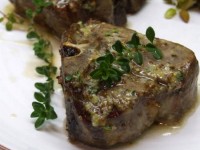 Ingredients:
4 Tablespoons unsalted butter, softened
1 teaspoon whole-grain Dijon mustard
1 teaspoon fresh thyme leaves, lightly chopped
3/4 teaspoon finely grated lemon zest
1/8 teaspoon kosher salt
1/8 teaspoon freshly ground black pepper; more as needed
8 1 1/2 to 2-inch lamb loin chops (about 3 pounds), trimmed
Directions:
1. In a small bowl, mash together the butter, mustard, thyme, zest, salt and pepper until well combined. Refrigerate until ready to use.
2. Position an oven rack 5 to 6 inches from broiler. Preheat broiler.
3. Line bottom of broiler pan with foil and replace the top part of the pan. Arrange the chops on the pan. Season both sides of the chops generously with salt and pepper. Broil until the first side is well-browned, about 8 minutes. Turn the chops over with tongs and continue to broil until they're well-browned and the center is cooked to your liking, 3 to 5 minutes longer for medium rare.
4. Transfer chops to serving plates and top each with a dab of flavored butter. Serve hot.
Source: RecipeGirl.com (Adapted from Fine Cooking)