Frozen Caramel Toffee Ice Cream Sandwich Dessert
This is one of my favorite summer dessert recipes:  Frozen Caramel Toffee Ice Cream Sandwich Dessert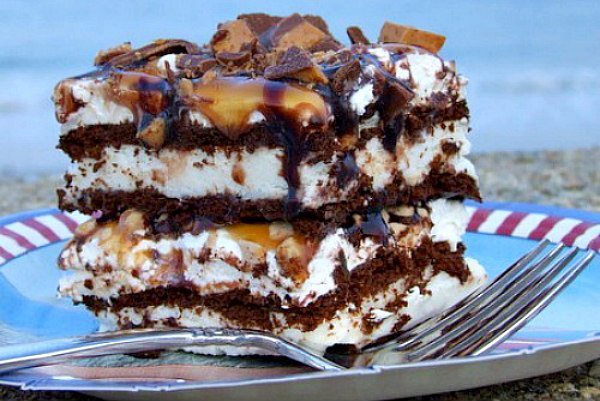 Let's get a few things straight:
I'm not a big fan of Cool Whip or any packaged, ready-to-eat foods.
I don't normally take the easy way out when putting together desserts.
I've come to realize that sometimes taking the easy way out works out really, really well.
With that in mind, I'll present to you my favorite new recipe (of the 30+ recipes that I prepared on my vacation).  It's the perfect sort of recipe for a summer party. It makes a TON… a good 24 to 36 servings to be exact, depending on how big you make your slices. This is the perhaps the easiest, most-decadent dessert you'll ever make.
Here's the how-to: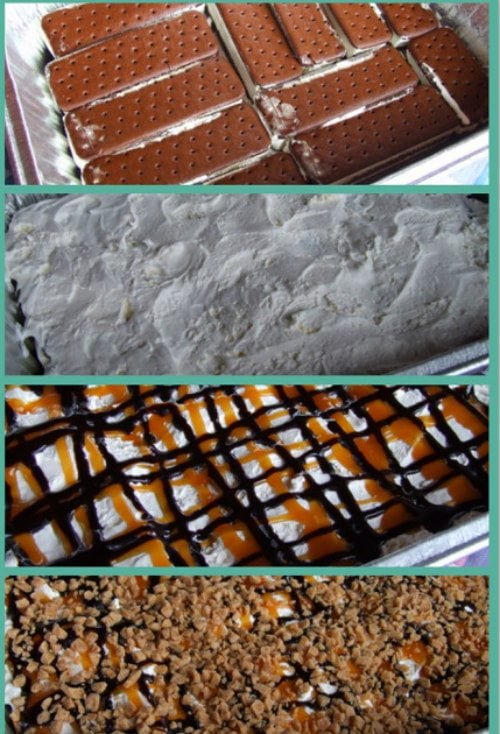 Buy one of those extra-deep 13×9-inch disposable foil pans (it's easiest, and it's the perfect depth). Place a layer of ice cream sandwiches in the bottom. Cover them with Cool Whip. Drizzle with caramel and chocolate syrup. Sprinkle with toffee bits. Freeze for a bit… then repeat: Another layer of ice cream sandwiches, Cool Whip, and syrups.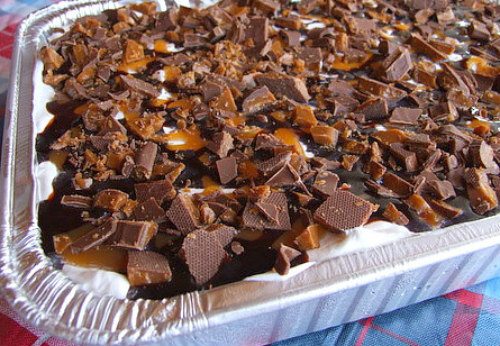 Top with crushed Heath or Skor bars. Freeze several hours until firm enough to slice.  We sliced this up and put it into plastic cups for easy serving… put all of the cups on a large tray and passed them around to guests, who snatched them up eagerly.
This simple, simple frozen dessert is always a huge hit. It's delicious, decadent and impressive enough to serve up at a party. At my party, my guests asked about how to make it it… and you should have seen the looks of amazement on their faces when I explained the process of putting it together. People like the easy stuff.
Here's a short video showing you how to prepare this recipe. Print out the complete recipe below the video.
Yield: One GIANT dessert
Prep Time: 25 minutes + freezing time
Frozen Caramel Toffee Ice Cream Sandwich Dessert
This easy, frozen dessert recipe is a family favorite. It's best to serve at a large gathering, where you can dish out the majority of it (plus seconds) in a short time, but it also keeps well in the freezer for about a week. Just cut off a chunk when the craving hits!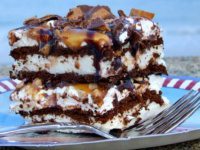 Ingredients:
1 deep-dish rectangular, throw-away foil pan (9x13)
24 store-bought frozen ice cream sandwiches
2 regular-sized tubs of Cool Whip
caramel sauce
chocolate sauce
bag of Heath bits
4 bars Heath or Skor candy bars, chopped
Directions:
Spray pan with cooking spray. Layer 12 ice cream sandwiches side-by-side in bottom of pan.
Spread one tub of Cool Whip over the top of the sandwiches. Drizzle caramel and chocolate syrups over the top of the Cool Whip and then sprinkle with toffee bits. Place in the freezer for about an hour.
Layer 2nd level of 12 ice cream sandwiches on top of the toffee bits. Spread with 2nd tub of Cool Whip. Drizzle caramel and chocolate syrup over the Cool Whip. Sprinkle Skor/Heath bars over the top. Place in freezer for several hours until firm.
When ready to serve, remove from freezer and use sharp knife to cut into squares.
Cut this recipe in half for a smaller gathering.
There aren't a whole lot of ways to make this lowfat, but you can use light Cool Whip ????
The depth of the pan is important… it's a pretty 'tall' dessert (4-inches or so).
You're sure to enjoy this dessert, but a small piece is plenty.  Schedule some extra walking into your week to squeeze in room for extra calories.  It's worth it!
SOURCE: RecipeGirl.com
Here are a few more frozen dessert recipes you might enjoy: