Cilantro Slaw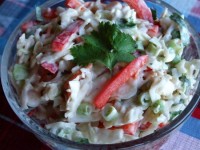 Ingredients:
1/2 cup mayonnaise (low fat is fine)
2 Tablespoons cider vinegar
1 teaspoon granulated white sugar
2 teaspoons minced garlic
1/2 teaspoon ground cumin
3 cups finely shredded cabbage
1/2 cup chopped green onions
1 cup finely sliced red bell pepper
1/3 cup minced fresh cilantro
kosher salt & freshly ground black pepper, to taste
Directions:
1. Whisk mayonnaise, vinegar, sugar, and garlic and cumin in a bowl until combined.
2. Toss cabbage, green onion and bell pepper in a large bowl.
3. Pour mayo mixture over cabbage mixture. Sprinkle with cilantro and toss to coat. Add salt and pepper to taste, and serve.