Yield: Nine 4-inch pancakes
Prep Time: 10 min
Cook Time: 15 min
Buttermilk Pancakes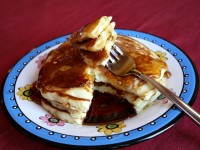 Ingredients:
1 cup all-purpose flour
2 tablespoons granulated white sugar
1 teaspoon baking powder
1/2 teaspoon baking soda
1/4 teaspoon salt
1 cup lowfat buttermilk
1 teaspoon vegetable or canola oil
1 large egg, lightly beaten
Directions:
1. Combine flour and other dry ingredients in a large bowl. Make a well in the center of the mixture.
2. Combine buttermilk, egg and oil; pour into well and stir until smooth.
3. Spoon 1/4 cup batter onto a medium-heated nonstick griddle or skillet coated with cooking spray. Turn pancakes when tops are covered with bubbles and edges begin to brown. Cook for a minute or so more, until lightly browned on the other side too. Serve with warm maple syrup.