Prosciutto- Wrapped Melon
This recipe is simple as can be, and it's exactly what you would find in a nice, Italian bistro.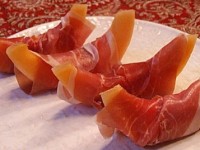 Ingredients:
1/2 medium honeydew or cantaloupe melon, seeded
6 thin slices prosciutto (about 3 ounces)
Directions:
1. Slice melon into 12 half-inch-thick pieces, and carefully slice off the rind from each.
2. Halve the 6 slices of prosciutto lengthwise.
3. Wrap one slice around each melon piece. Place on a platter and serve (or cover and refrigerate until ready to serve).