Yield: 12 cupcake-sized carrots or 24 mini carrots
Prep Time: 45 min
Marzipan Carrots
Really very easy to do, and they turn out so cute too!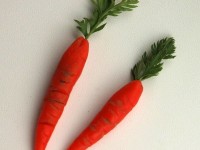 Ingredients:
1 ounce marzipan
orange and red gel-paste food coloring
unsweetened cocoa powder for decorating
small, fresh carrot fronds, rinsed and dried well
Directions:
1. Tint marzipan with orange and red food coloring, a drop at a time, to reach desired color.
2. Divide the tinted marzipan into 12 pieces (cover with plastic wrap or place into a zip baggie when not using). Shape each piece into a ball, then roll into logs, tapering 1 end, to resemble carrots.
3. Dampen the edge of a paring knife and dip into cocoa powder. Make tiny indentations in each carrot with cocoa powdered knife edge to create texture that resembles a real carrot (the cocoa adds a dirt-feel to it). Carrots will keep, covered, for up to 1 week. When ready to use, cut a slit into the end of each carrot and slip in a carrot frond. Gently push closed to hold together.
4. Use carrots to decorate cupcakes, cakes, cheesecake, mini-cheesecakes and other pastries.