Creamy Gruyere & Shrimp Pasta
Adapted from a Cooking Light recipe, this creamy pasta dish is scaled down to use lighter ingredients. It's a big, big favorite in the RecipeGirl household.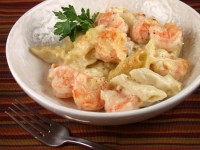 Ingredients:
8 ounces penne or fusilli pasta
1/4 cup all-purpose flour
1/2 teaspoon salt
2 cups nonfat milk
1 1/4 cups (5 ounces) Gruyere Cheese, grated
1 Tablespoon butter
1 1/2 pounds raw shrimp, peeled & deveined
4 cloves garlic, minced
2 Tablespoons dry white wine
1/4 teaspoon cayenne pepper
Directions:
1. Preheat oven to 375°F. Spray 9x13 baking dish with cooking spray.
2. Cook and drain pasta.
3. Combine flour, salt and milk in a large skillet. Stir thoroughly to combine. Bring mixture to a boil, stirring constantly with a whisk. Cook for 1 more minute, until slightly thick, stirring constantly. Remove from heat and stir in 3/4 cup of the cheese, stirring until melted. Set aside.
4. Melt butter in a large skillet. Add garlic and cook over medium-high heat for 3 minutes. Add shrimp, wine and cayenne, and cook just until shrimp begins to turn pink.
5. Add pasta and shrimp to cheese mixture and toss to combine. Spoon everything into prepared dish. Sprinkle with remaining cheese.
6. Bake for 20 minutes, or until cheese melts and begins to brown. Let sit for 10 minutes before serving.
Nutritional Information per serving:
Calories per serving: 383
Fat per serving: 11g
Saturated Fat per serving: 5.9g
Fiber per serving: 1.8g
Protein per serving: 34.9g
Cholesterol per serving: 199mg
Carbohydrates per serving: 33g
WW POINTS per serving:
WW Points: Points Plus 9 Old WW Program 8