Yield: 14 servings
Prep Time: 30 min + marinating time
Cook Time: 10 min
Chicken Pasta Salad
LOVE this salad- have served it for many events- baby shower, bbq's etc. Everyone always loves it and asks for the recipe. It feeds a lot of people too.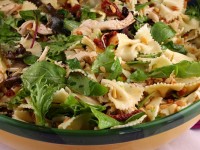 Ingredients:
16 oz bow tie pasta, cooked and drained
CHICKEN:
4 large chicken breast halves, boneless, skinless
1/4 cup chopped onion
1 teaspoon chopped fresh rosemary
1 clove garlic, minced
DRESSING
3/4 cup extra-virgin olive oil
3/4 cup freshly squeezed lemon juice
4 teaspoons granulated white sugar
4 teaspoons Dijon mustard
2 cloves chopped garlic
1 teaspoon chopped fresh rosemary, to taste
SALAD INGREDIENTS:
1 pound mixed salad greens
1/2 cup chopped fresh Italian parsley
1 bunch green onions, sliced (1/2 to 3/4 cup)
1/2 cup sun dried tomatoes, chopped
1/2 cup freshly grated Parmesan cheese
1/2 cup crumbled, cooked bacon
1 cup toasted pine nuts
Directions:
1. PREPARE CHICKEN: Sauté chicken with onion, rosemary and garlic in 12-inch skillet over medium heat until chicken is cooked through. Remove chicken from pan and cut into bite-sized pieces. Discard onion. Set chicken aside.
2. DRESSING: Whisk dressing ingredients together. Pour dressing over cooked noodles and chicken. Cover and marinate overnight in refrigerator.
3. JUST BEFORE SERVING: Add remaining salad ingredients and toss.