White Wedding Cake Cupcakes
This recipe for White Wedding Cake Cupcakes is one of the most popular recipes on RecipeGirl.com.  These are seriously simple to make – you'll be shocked!  But they turn out the best cupcakes.  They're so good!
There is a short, how-to video included toward the end of this post, and you can scroll to the very bottom to print out the complete recipe.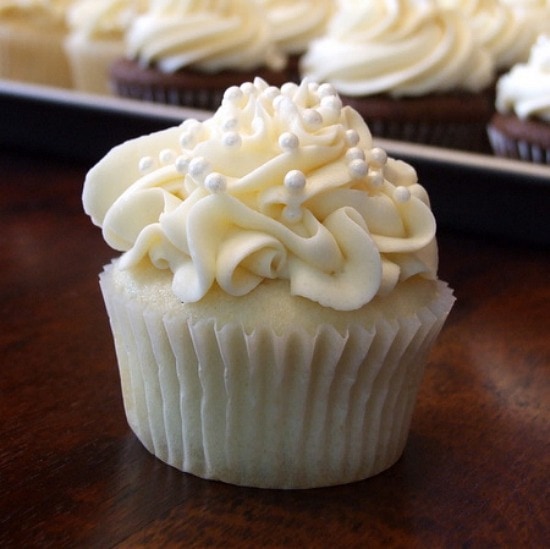 This White Wedding Cake Cupcakes recipe has been featured in a post on The Recipe Girl blog, with more photographs and information on the decorator tips that were used and which icing recipe is best (Wedding Cupcake Buttercream) and How to Make Wedding Cupcakes.  Go there for all of the answers to your questions about details on what tips were used for the frosting etc.
I'm not usually one to use a boxed cake mix and doctor it up. I'm much more accustomed to using entirely homemade recipes.  But these turn out delicious, moist and fluffy cupcakes- perfect for holding buttercream frosting.  It's crazy, but it's true!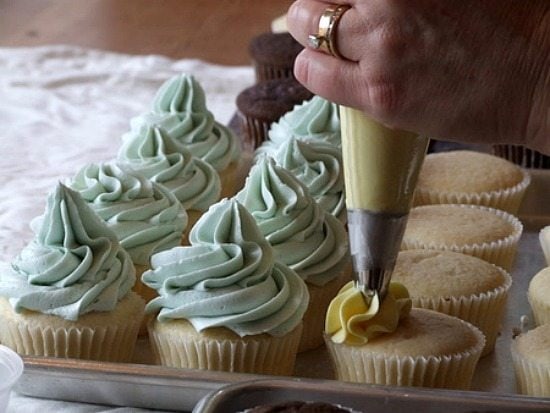 As you can see from the photo, the cupcakes lay pretty flat on top and don't rise into a mound like some cupcakes.  This is a good thing, actually.  You want those cupcakes to have a flat layer so there is a nice, flat base for piping frosting on top.
Don't fret if the tops of the cupcakes appear to be slightly moist.  That's okay!  Just cover them with your buttercream frosting, and all will be fine.  For best results, look for white cupcake papers from a real baking supply store.  They'll have the best products, and that is where I buy the papers that I use.
This recipe has been pinned more than one million times by RecipeGirl readers, and the recipe has been made by thousands and thousands of people.
I receive so many happy emails from brides who chose to use this recipe for their wedding.  It's that good!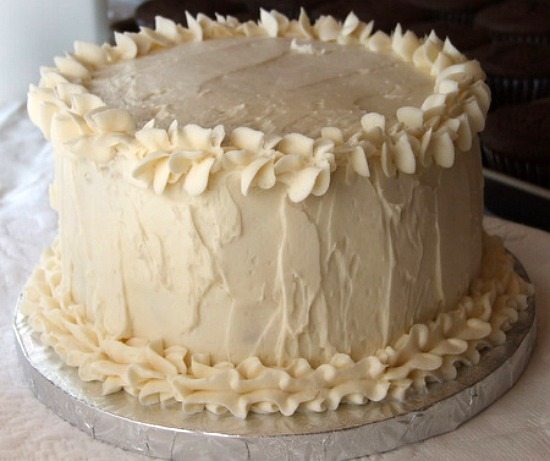 This recipe can also be used to make wedding cake.  I made cupcakes for the wedding- plus a mini cake for the bride and groom to take home and keep.  I used the same Wedding Cupcake Buttercream for the cake too.  It pipes beautifully!  See the links below for the Wedding Cake and Wedding Cupcake Buttercream links!
I've made larger cakes by doubling the recipe, and I've made mini cakes– as pictured.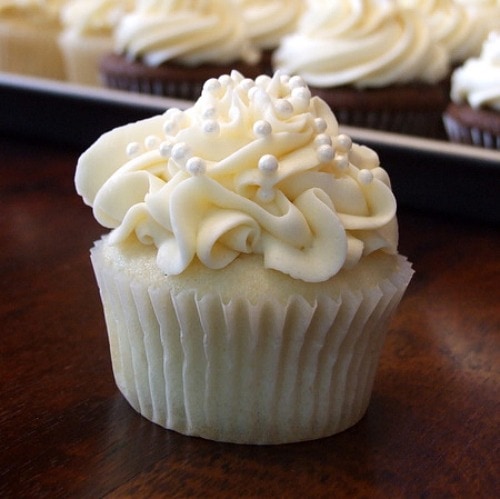 Look for edible pearls at a craft store like Michaels- or a baking supply shop.  If you have additional questions, it might be helpful to read through the comments below the recipe– you might find the answers you are looking for 🙂
As with using any recipe for an important occasion, my best advice is to test this recipe out and see how you like it before you make it for the big day.  Frost the cupcakes and everything!  Then you'll know if this recipe is for you.
Click below to watch a short video showing you how to make these cupcakes, then scroll to the bottom to print out the complete recipe.
Yield: 36 cupcakes
Prep Time: 15 minutes
Cook Time: 18 minutes
White Wedding Cake Cupcakes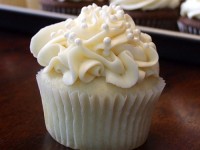 Ingredients:
1 box

white cake mix (Betty Crocker, Duncan Hines, etc.)

1 cup

all-purpose flour

1 cup

granulated white sugar

3/4 teaspoon

salt

1 1/3 cups

water

2 tablespoons

vegetable or canola oil

1 teaspoon

vanilla extract

1 cup

sour cream

4 large

egg whites
Directions:
Preheat oven to 325°F. Place cupcake liners in cupcake pans (you'll need approx. 36).
In a large bowl, whisk together cake mix, flour, sugar and salt. Add remaining ingredients and beat with hand mixer for 2 minutes, or until well blended.
Use ice cream scoop to fill prepared cupcake tins- fill about 3/4 full. Bake about 18 minutes, or until toothpick inserted in center comes out clean.
SOURCE: RecipeGirl.com (Adapted from weddingcake101.com)
Here are a few links that may be helpful to you: