Yield: 4 cups
Prep Time: 40 min + chilling time
Cook Time: 20 min
Spiced Fresh Orange & Honey Sorbet
We made this one to go with the desserts for our Greek dinner party. Everyone enjoyed the interesting flavors. I used star of anise, cloves, a dried bay leaf and grated ginger. So good!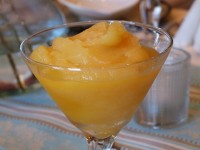 Ingredients:
3 cups water
1 cup sugar
1/2 cup clover honey
2 Tablespoons finely grated orange peel
1 Tablespoon chopped peeled fresh ginger
2 whole star anise or cardamom pods
2 whole cloves
1 small bay leaf, preferably fresh
2 cups chilled fresh orange juice
3 Tablespoons fresh lemon juice
Directions:
1. Combine first 8 ingredients in heavy large saucepan. Bring to boil over medium-high heat, stirring until sugar dissolves. Boil until syrup is thick and mixture is reduced to 2 cups, about 12 minutes. Discard bay leaf; cool syrup.
2. Strain syrup through fine sieve into medium bowl. Add orange juice and lemon juice. Pour into a bowl, cover and refrigerate overnight.
3. Transfer to ice cream maker and process according to manufacturer's instructions. Transfer sorbet to container, cover, and freeze until firm, at least 6 hours and up to 3 days.