Greek Potatoes w/ Lemon Vinaigrette
Terrific potato dish! Very nice flavors and the perfect accompaniment to lamb.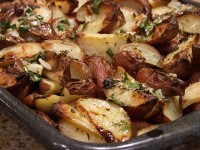 Ingredients:
3/4 cup extra-virgin olive oil
5 Tablespoons lemon juice, freshly squeezed
2 Tablespoons shallots, chopped
2 Tablespoons fresh oregano, chopped
1 Tablespoon fresh Italian parsley, chopped
2 cloves garlic, minced
salt and pepper, to taste
3 pounds red potatoes, each potato cut lengthwise into 6 wedges
1/2 cup chicken broth, low sodium
Directions:
1. Preheat oven to 425°F. Whisk olive oil, lemon juice, shallots, oregano, parsley and garlic in medium bowl to blend. Season vinaigrette with salt and pepper.
2. Toss potatoes with 1/2 cup vinaigrette on heavy large rimmed baking sheet. Reserve remaining vinaigrette for serving. Pour chicken stock around potatoes. Sprinkle potatoes with salt and pepper. Roast potatoes until tender and golden brown, turning occasionally, about 45 minutes. Cool completely. Using metal spatula, loosen potatoes from baking sheet to prevent sticking.
3. Preheat oven to 425°F. Rewarm potatoes until crisp, about 15 minutes. Divide potatoes equally among plates. Drizzle some reserved lemon vinaigrette over potatoes.