Strawberry Oatmeal Banana Bread
You always have those aging bananas ready to draw fruit flies sitting on your counter, so mix those with some ripe & juicy strawberries to try a new recipe: Strawberry- Oatmeal Banana Bread
I haven't had a whole lot of "luck" with making strawberry breads in the past as I find that strawberries tend to lose a lot of their flavor in the baking process. So for this bread, I purchased some very special French strawberries from my local farmstand (Chino Farms.) I asked the guy what the difference was between the $3 and $5 baskets. He had a difficult time explaining how wonderful the French ($5) ones were, so he popped one in my mouth and let me decide for myself. Oooo la la… the farmer was right. Those French people did something to these strawberries that make them in a class all their own.
A bit more petite, juicier and waaaaaay more flavorful than your average everyday strawberry, they were definitely worth the extra $2. Kind of a splurge, but I was sold when I tasted them. We only got to eat a few, because the rest went into this bread.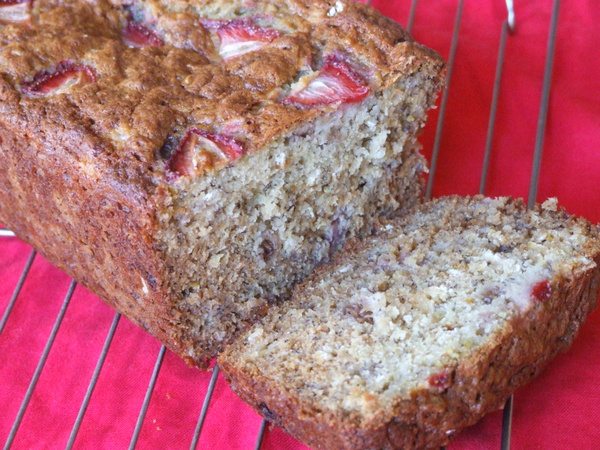 The result: A good, moist banana bread with a slight strawberry flavor. I have a feeling though that if you don't have really juicy, flavorful strawberries, you might not get much flavor in the bread from your berries. You don't have to use fancy French strawberries, but keep on the lookout to try them sometime.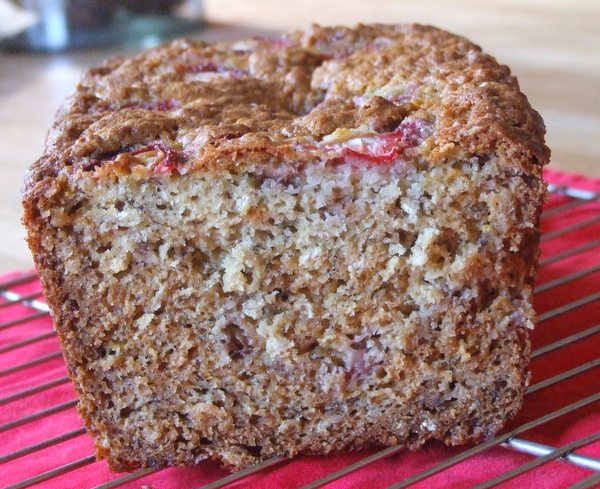 Of course you could always try this with raspberries or blueberries or some other kind of berry that you have access to.
Enjoy with a cuppa coffee!
Yield: 1 loaf
Prep Time: 15 minutes
Cook Time: 55 minutes
Strawberry Oatmeal Banana Bread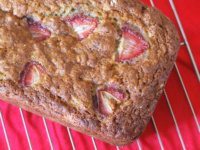 Ingredients:
1 3/4 cups all-purpose flour
1/2 cup rolled oats
2 1/2 teaspoons baking powder
1 teaspoon baking soda
3/4 teaspoon salt
1/3 cup butter, at room temperature
1/2 cup granulated white sugar
1/4 cup brown sugar, packed
1 tablespoon finely grated lemon zest
2 large eggs, beaten
1/4 cup sour cream
1 teaspoon vanilla extract
1 cup mashed ripened bananas
1/2 cup mashed strawberries (fresh or frozen)
Directions:
Preheat oven to 350°F. Grease and flour 8X5-inch loaf pan.
Whisk together first 5 dry ingredients in a small bowl; set aside.
In a large bowl, mix butter and sugars with an electric mixer; beat for two minutes. Add eggs, lemon zest, sour cream and vanilla; beat until combined. Mix in banana and strawberries. Stir in dry ingredients- just until combined. Gently scoop into prepared pan.
Bake 55 to 65 minutes, or until toothpick tests out clean.
SOURCE: RecipeGirl.com